IBM Tries to Sell Government on 'Brain in a Box' Technology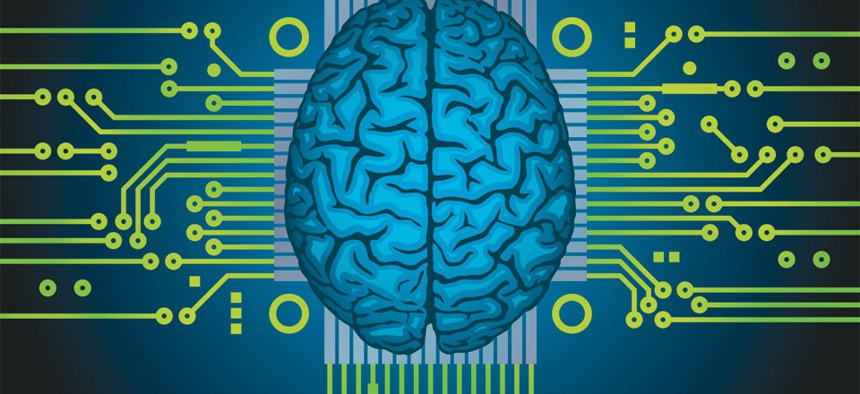 IBM scientists came to Capitol Hill on Tuesday to sell lawmakers on the company's new computing chips, which are designed to mimic the connections made by neurons in the human brain. 
Once developed further, the postage-stamp-sized chips could power high-tech glasses that identify nearby objects for the wearer or desktop computers with supercomputing capabilities, said IBM chief scientist Dharmendra Modha during the briefing. Chips, which each consume about as much energy as a hearing aid battery, can be tiled to create more powerful computers. 
This "syNAPSE" technology — which stands for "systems of Neuromorphic Adaptive Plastic Scalable Electronics" — is funded in part by a 2008 grant from the Defense Advanced Research Projects Agency, which encouraged scientists to create low-power computers that can scale to levels found in brains found in nature. 
IBM tested a prototype that could play the computer game Pong in 2011, and unveiled the chip in August 2014. IBM's eventual goal is to build a "brain in a box" that consumes 1 kilowatt of power, Modha said. 
Speaking before the House Science & National Labs Caucus — co-chaired by Reps. Randy Hultgren, R-Ill., Chaka Fattah, D-Pa., and Ben Ray Lujan (D-N.M.) — Modha and panelists from various national laboratories emphasized potential applications in national security. 
For instance, tiny chips with high computing power could be useful in biosecurity, "where we do very fast searches for biological samples," said Jim Brase, deputy associate director for computation at the Lawrence Livermore National Laboratory. The chip might be installed directly in a sample-taking instrument, to compare samples to a database as they're collected, so "the sensor becomes the supercomputer."
They could also be used to create more sophisticated autonomous vehicles, which could enhance space travel, said James Olds, assistant director for the Directorate for Biological Sciences at the National Science Foundation. 
The briefing came as lawmakers discussed the 2013 American Super Computing Leadership Act, which would direct the Energy Department to research and develop low-energy, high-computing power systems, Hultgren said. An amended version of the bill passed in the House in 2014, but not in the Senate, according to Govtrack. 
Harnessing supercomputing technology in the private sector, in areas such as manufacturing or medical diagnoses, could spur economic growth, Hultgren added. 
But the syNAPSE technology is still in its early stages. IBM plans to hand out chip boards to universities so they can study its potential, Modha said. And scientists are still researching how much the chip technology can scale to create more complex supercomputers, said Horst Simon, deputy director for the Lawrence Berkeley National Lab. 
(Image via Robert Voight / Shutterstock.com)