Clicking with Citizens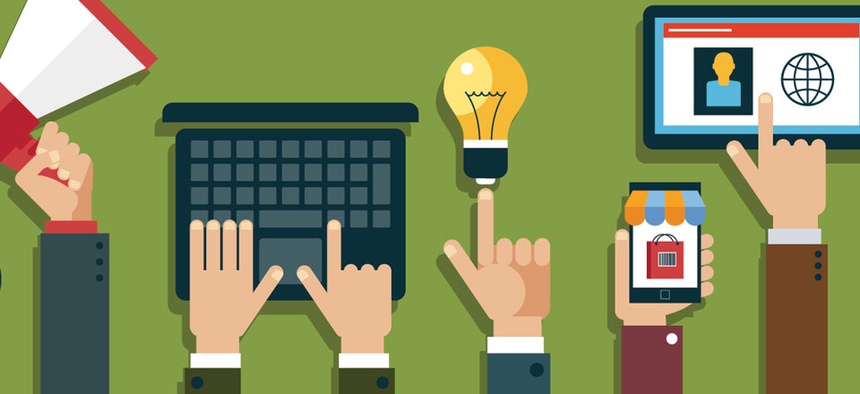 This story appears in the November-December issue of Government Executive magazine.
Digital government efforts have gained momentum since the Obama administration first called for sweeping changes to the delivery of citizen services in May 2012.  
But anyone who's ever lined up at the Department of Motor Vehicles knows a truly digital government has yet to be realized. That's about to change, thanks to growing awareness and clear-cut deadlines agencies will be pushed to meet in the coming years.
It's not just U.S. agencies watching the countdown clock, however. Governments around the world are inching closer to their own deadlines for becoming fully digital. Their experiences could offer lessons for those masterminding the U.S. government's shift to 21st century approaches to online services.
The Netherlands may be famous for its tulips and windmills, but it also has long been known as a front-runner in the digital realm. For the past several years, the Maryland-sized nation has topped global rankings of online government services. This year, the Netherlands was named the world's top e-participation leader in the United Nations E-Government Survey, which evaluates 193 U.N. member states.  
Dutch officials have set a 2017 deadline for enabling all citizens and businesses to interact with government electronically. That goal came in response to growing demand from citizens who shop and bank online and expect public services to be readily available, says Julia Rademaker, spokeswoman at the Dutch Ministry of the Interior and Kingdom Relations.
The Dutch "expect governments to modernize and deliver the services online . . . and government cannot stay behind," Rademaker says. "Even in our relatively small country, where distances are limited, citizens and businesses expect convenience as well as reduction of costs and administrative burden."
More than 11.5 million Dutch citizens—out of a total population of 16.8 million—use DigiD, an online registration platform that verifies citizens' identities. More than 600 government entities or organizations with a public function have implemented DigiD. In 2013, more than 117 million transactions were registered, which Rademaker says is a 62 percent increase, compared with 2012.
What does that mean for citizens in their everyday lives? The process of obtaining a parking permit, for example, has been dramatically simplified. In the past, citizens had to visit their municipality's parking department. Knowing which policies and tariffs applied was a headache. And it took a while before the department issued the parking permit.
Today, half of Dutch municipalities with parking permits have digital systems. Citizens can use DigiD to request a parking permit. The information is checked against online registries. Payment is made online with iDeal, a system run by banks. The parking permit is issued quickly and, in some cases, no paper permits are needed, because parking enforcers clear cars by license plate.
For a population used to the convenience of 24/7 Internet access, having government become more digital is a "win-win situation," Rademaker says. Citizens don't have to visit brick-and-mortar institutions as much and agencies save money because e-services cost less.
Still, some interactions will likely remain offline.
"The warm personal interaction at the kitchen table can hardly be replaced for online interaction," she says. "In that respect, digitalization has its limitations. But in the end, it's about delivering high-quality services to citizens."
Dutch officials understand everyone isn't ready to jump into the digital waves quite yet. The government's motto is "digital where possible, personal where needed," Rademaker says.
Other countries are still in the beginning stages of powering up e-government. But their plans for providing essential services using the connective tissue of the Internet are no less ambitious than their more advanced neighbors.
In 2011, e-government rankings reported Mexico lagging in citizen services. Now the country has a far-reaching plan in place. The end goal? A "digital Mexico." For Alejandra Lagunes, Mexico's national digital strategy coordinator, that means tackling three challenges: technology, regulations and culture.
Technology issues are the easiest to solve, while the cultural ones "have been our most profound challenge," she says. "How to train the government to adopt a new paradigm, one in which digital technologies reconfigure our relationship with society, is the biggest question."
The challenges entrepreneurs face when launching new businesses are much like those in more developed countries. People must navigate multiple levels of government to obtain the proper permits and pay taxes.  
But for Mexico the lack of digitized services and government processes presents even more barriers.
"In Mexico, then, every challenge is double: We have to do what we must to change government, at the same time that we are bringing connectivity to every corner of our country," Lagunes explains.
In creating its e-government framework, Mexico drew from similar strategies in the United Kingdom and—closer to home—Chile and Uruguay. The United Kingdom's digital government strategy was a particular inspiration. Gov.uk launched in October 2012 and has since been touted as a leading-edge online home for government services and information.
In Mexico, policymakers are rolling out their digital strategy in stages. The first focuses on information services. Later, more online payment services will be provided.
"In the final phase of the process all services that do not require physical presence will be available to all users from beginning to end," Lagunes says.
(Image via Ellagrin/Shutterstock.com)