White House Challenge: Make Our First 3-D Printed Christmas Ornament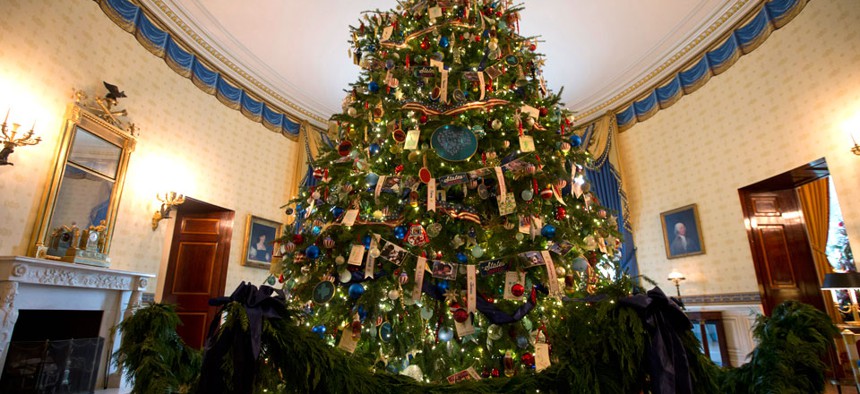 A White House competition for the best 3-D printed holiday ornaments launched Thursday. And it's not even Halloween.
Apparently there are currently no 3-D printed ornaments in the White House collection, so yours could be the first.
You don't need your own 3-D printer. Just send in your design (try Tinkercad if you don't have a better way) in the next week and a half, and the White House will take care of actually 3-D printing a selection of the winners.
The ornaments will be displayed at the White House through the holidays. They'll also be featured at the Smithsonian's 3-D data site 3d.si.edu . A few will join the political history division of the Smithsonian's National Museum of American History.
"With the democratization of tools and technologies like 3-D printing, individuals have more opportunities to take their ideas and turn them into reality," Stephanie Santoso, an adviser at the White House Office of Science and Technology Policy, said in a blog post Thursday.
The contest is part of a larger White House effort to get innovative Americans to make things. 3-D printers create objects designed in computer programs by pouring substances in layers. This has proven handy for numerous other Christmas purposes, including Advent calendars and cookies .
"We need your help to create the first 3-D-printed ornaments that will deck the halls of the White House," Santoso said, suggesting that people who already know how to do this hustle to host design workshops at schools and libraries -- ideally, in the next few weeks.
If you're up to the challenge, submit your designs to Instructibles by Nov. 10.
Here is some inspiration. First, one made by scientists at GE Global Research in 2011, the very early days of 3-D printed ornaments:
Already by 2012, 3-D printed ornaments were much more ornate:
And then there's yours. What does the future hold?