DOT Wants Cars to 'Talk' to Each Other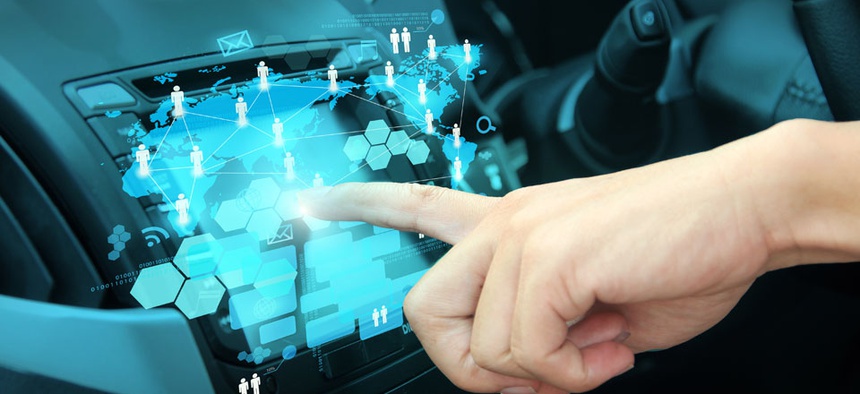 The Transportation Department and its National Highway Traffic Safety Administration have formally kicked off a process that would end in mandating all cars and light trucks have the ability to exchange data with each other over wireless communications to prevent accidents. 
Vehicle-to-vehicle communications technology "could move us from helping people survive crashes to helping them avoid crashes altogether -- saving lives, saving money and even saving fuel thanks to the widespread benefits it offers," said Transportation Secretary Anthony Foxx.
But the systems could add billions of dollars a year to the annual total cost of cars sold in the United States and might have to compete for the use of wireless spectrum the administration wants to use to expand the Wi-Fi band.
A 327-page NHTSA report on V2V showed that just two safety applications -- Left Turn Assist and Intersection Movement Assist –- could prevent up to 592,000 crashes and save 1,083 lives per year. LTA warns drivers not to turn left in front of another vehicle traveling in the opposite direction, and IMA warns them if it is not safe to enter an intersection due to a high probability of colliding with one or more vehicles.
Other V2V applications could also help drivers avoid imminent danger by warning them of forward collisions, blind spots, do-not pass zones, and stop-light and stop-sign warnings.
"By warning drivers of imminent danger, V2V technology has the potential to dramatically improve highway safety," NHTSA Deputy Administrator David Friedman said. 
Friedman said the technology is "ready to move toward implementation."
Though the agency said V2V systems would ultimately save money, the report shows mandatory installation in cars and light trucks will cost billions of dollars. The report estimated V2V systems would cost approximately $341 to $350 per vehicle in 2020, and communication costs would range between $3 to $13 dollars per vehicle.
Cost of the wireless security management system would range from $1 to $6 per vehicle in 2020 and add up to between $9 and $18 in annual fuel costs because of the weight of the V2V system, the NHTSA report said. 
Total annual costs for V2V range from $0.3 billion to $2.1 billion in 2020 to $1.1 to $6.4 billion between 2022 and 2024. Costs are then projected to gradually decrease to between $1.1 billion and $4.6 billion a year, the report estimated.
'Talking Cars' Might Have to Compete with Wi-Fi for Spectrum Space
The Federal Communications Commission allocated 75 MHz of spectrum from 5.85 GHz to 5.925 GHz in 1999 for the Dedicated Short Range Communications systems NHTSA plans to use for V2V.
Vehicles will use this spectrum to communicate with each other at a range of up to 300 meters, according to the V2V plan.
The DSRC spectrum lies just above the spectrum used by the upper Wi-Fi band (5.47-5.825 GHz) and in February 2013,  FCC proposed sharing all the spectrum allocated to DSRC with Wi-Fi users.
The National Telecommunications and Information Administration strongly opposed such sharing in a June 2013 letter to FCC, citing the absence of rigorous tests.
"DSRC should continue to be protected for the uses and goals for which it was allocated: reducing crashes, injuries and fatalities," the NTIA letter said. "The FCC's proposals should not be implemented until and unless rigorous testing has shown that these critical safety goals will still be satisfied."
The Alliance of Auto Manufacturers -- a group of 12 domestic and foreign companies, including Chrysler, Ford and General Motors as well as Volkswagen and BMW -- also urged FCC to preserve the DSRC spectrum free from incursion and interference.
"As we begin to move from the research lab to the actual deployment of vehicle-to-vehicle (V2V) and vehicle-to-infrastructure (V2I) communications technology, it remains critically important that the FCC preserve the ability to use the radio spectrum reserved for it," the manufacturers said in a statement. "We understand the pressing need for additional spectrum and are open to sharing this spectrum if it can be done safely. We continue to urge the FCC not to compromise the use of the spectrum until it is definitively established that sharing will not interfere with the safety of the driving public."
NHTSA has asked for comments on its advanced notice of proposed rulesregarding V2V through Oct. 20 and said it plans to issue a final proposed rule sometime in 2016.
(Image via My Life Graphic/Shutterstock.com)