Wanted: Smart Snowplows With Infrared Radar and Virtual Reality Systems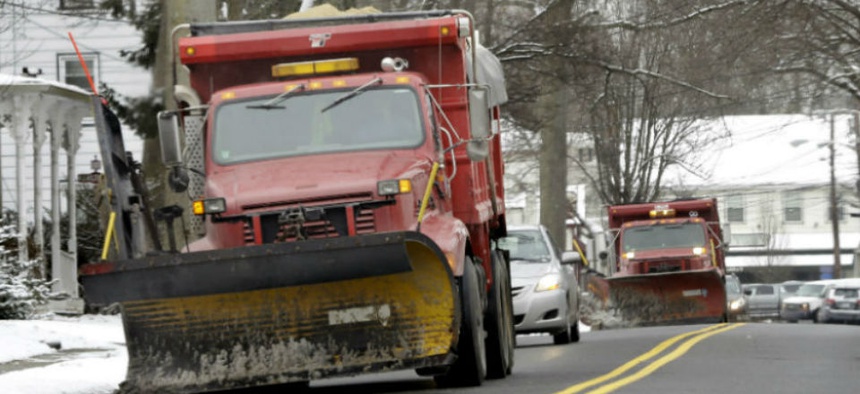 The Federal Highway Administration wants to develop smart snowplows equipped with GPS, radar, sensors used in attack helicopters and virtual reality and synthetic vision systems.
FHWA said it plans to run a competition for a prototype "high-accuracy, visual guidance system" for snowplow operators based on these and other advanced technologies, such as heads-up displays used in military aircraft so pilots don't have to look down at a screen.
"To successfully complete this project, expertise will be required in diverse fields, including digital imaging, digital multidimensional mapping, global positioning systems, radar/LiDAR/forward-looking infrared-based sensing, and related emerging/existing technologies," FHWA said.
"Experience will also be needed in advanced digital imaging and displays, including augmented reality, virtual reality, synthetic vision, and advanced user displays such as heads-up displays, visors and other wearable technology."
Cities around the country including Chicago, Washington and New York use GPS to track snowplows, with their locations displayed on websites accessible to the public, but none use systems envisioned by FHWA to aid plow drivers.
The National Center for Atmospheric Research developed a system last year called Pikalert™ Enhanced Maintenance Decision Support System, which equips plows with  sensors that monitor road and snow conditions and then report them along with GPS-derived location information to a central database via a mobile phone connection. 
The NCAR system, funded by the Transportation Department, was installed for tests this year on snowplows in Michigan, Minnesota and Nevada for tests.  
The Minnesota Transportation Department tested a snowplow equipped with a commercial truck vehicle collision avoidance system in 1998 and determined this radar-based system feeding information to a driver display was able to help the plow driver detect other vehicles on the road long before visual sightings were made.