Former NASA Web Manager Is Crowdfunding Her Discrimination Suit Against the Agency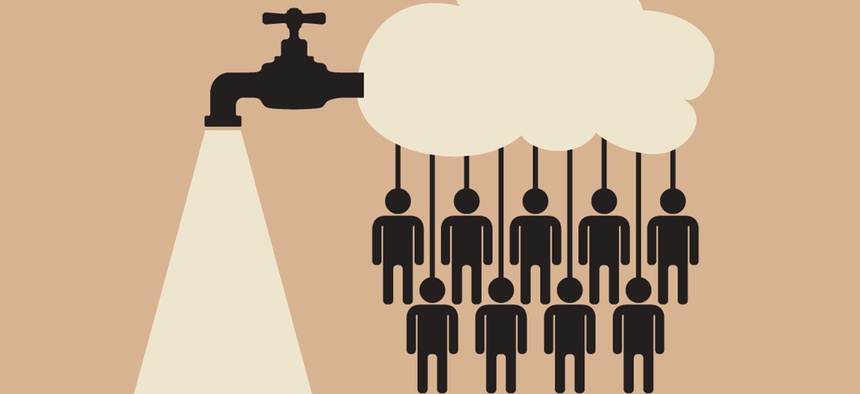 Update: Eskey and the government settled this case out of court in 2014. 
As a Web manager and open government lead at NASA's Ames Research Center, Megan Eskey used social media and other innovative approaches to publicize NASA activities.
Now she's using those same tools to publicize a discrimination complaint against her former employer and to crowdsource funds to support her suit and those of other federal employees who claim they were fired because of their age, gender or for other discriminatory reasons.
Eskey launched a crowdfunding campaign titled Law 2.0 on the site Indiegogo on March 1, asking for help funding her legal fees and living expenses while she pursues a wrongful termination case before the Merit Systems Protection Board. The site had raised $3,753 as of April 7. She's also hoping the site will bring publicity to the broader issue of age discrimination in government and to her case specifically, she said, perhaps compelling NASA to settle before a formal ruling.
"The idea of crowdfunding came to me because I thought it was unfair that managers get free lawyers [in wrongful termination disputes] and I had to pay for my lawyers out of my pocket," Eskey said. "This was an attempt to level the playing field."
NASA officials fired Eskey in November 2012 after a year of what she claims were discriminatory punishments based less on her performance than on her age. She says the punishments -- for infractions such as not notifying her bosses that she was leaving for a conference a day early or rescheduling meetings -- increased after she filed a complaint with NASA's Office of Diversity and Equal Opportunity.
Eskey, who is 52, claims her punishments and eventual firing were part of a broader NASA program to replace older workers with younger employees who had only recently completed college or graduate school. As evidence she cites a 2009 document titled Rebalancing NASA's Workforce that she said was posted to open.NASA, an open government website and discussion board populated by NASA employees and contractors.
An email included in the document describes a NASA goal of 50 percent of all new hires being "fresh outs," meaning they're fresh out of college or graduate school. The document also includes what looks like several Web comments on the posting. The document is not currently available on open.NASA. A NASA spokeswoman told Nextgov she couldn't confirm whether the document had actually been posted to open.NASA or not.
"We do not have hiring quotas for any particular group of people," spokeswoman Sonja Alexander said. "We monitor the demographic balance of hires in the agency and are strongly encouraging hires into entry grade levels across the agency."
The Office of Diversity and Equal Opportunity handed down a final agency decision on March 18 of this year, finding no basis for Eskey's discrimination claims. Now she's hiring legal counsel and preparing to argue her case before the Merit Systems Protection Board, which hears appeals of federal job discrimination complaints.
Eskey came to work at NASA as a computer scientist in 1983 when she was fresh out of college herself. She spent a decade as Web manager for the NASA Ames Research Center and became the center's open government lead in 2010. Along the way, she helped NASA develop wikis and Ideascale pages and took part in social media conversations about digital government.
Eskey knew she wanted to use these digital government skills in service of her discrimination complaint, she said, but it took awhile to figure out exactly how to do that. She began by sharing the Rebalancing the Workforce document in a NASA LinkedIn group to gather testimonials from other employees, she said. She launched the crowdfunding campaign for her MSPB case on March 1.
The crowdfunding campaign is a work in progress, Eskey said. Similar campaigns have been launched by fired employees in the private sector, she said, but she may be the first federal employee to launch such a campaign.
"I'm uniquely positioned to be the first out of the gate in this process," she said. "Hopefully once I've charted the territory, others can copy what I've done."
Eskey's not sure whether the campaign will bring in enough money to significantly defray her legal costs and living expenses while she pursues her case and searches for a new job. Even if the campaign doesn't meet its $25,000 goal, she said, it will help bring ongoing attention to her case rather than the short burst of attention she might receive from news articles or press releases.
She also hopes the campaign will be an object lesson in the type of skills people in their 40s, 50s and 60s can bring to social and digital media projects. Social media is increasingly populated by older users, she pointed out. Facebook's largest user growth area in 2013 was people over 65 who are following their children and grandchildren onto the site. Older digital strategists likely have an advantage communicating with that older user demographic, she said.
Older strategists also likely have more experience wending their way through legal and bureaucratic hurdles that can stymie or halt progress, especially in government, she said.
"You're seeing more and more people like me, in their 40s and 50s, who are experts in gov20," she said. "It's a problem to automatically assume the younger generation is more current or more innovative than older generations. The older generation carries a wealth of experience that only comes with age, and there's an advantage to wedding that experience with new technology."
(Image via igor kisselev/Shutterstock.com)