What 3D-Printed Cake Tastes Like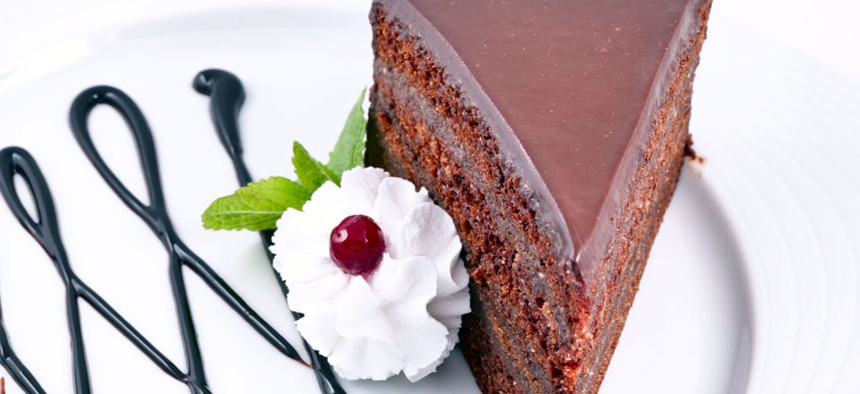 LAS VEGAS—Call them Cakerbots. Adding to the growing list of things you can 3D print (toys, human organs, pizza that will be eaten on Mars , etc.) is a machine promising that, with it, you can print yourself some dessert.
In the "3D Printing" section of the Consumer Electronics Show, one of the consistently busy booths has belonged to 3D Systems's Sugar Lab . And to, in particular, the booth's display of elaborate cakes and candies whose confectionary components have been constructed inside a 3D printer.
The ChefJet and ChefJet Pro print, basically, sugar: They work by applying a m ixture of alcohol and water to wet and then harden the sweet stuff. The devices' focus on crystalline sugar, combined with the capabilities of the printers themselves, results in forms that would be next to impossible to construct with human hands—little sculptures that double as dessert. The printers start at more than $4,000 for models that print with black-and-white food coloring; color models will likely retail for closer to $10,000 . As Sugar Lab's co-founder, Kyle von Hasseln, told me, the target markets for the machines are bakeries, restaurants, and event planners.
So, basically: The plastic couple that sometimes tops wedding cakes? That can now be edible. The princess atop little Jennifer's birthday cake? Same. Architectural confectionery is enjoying a renaissance of late; you could see 3D printing fitting right into that trend. Indeed, the towering cake you can see in the picture at the top of this post was made in collaboration with Charm City Cakes 's Duff Goodman, of Ace of Cakes fame.
The construction components are fitting: Von Hasseln and his wife, Liz, are trained architects. They actually stumbled onto the Sugar Lab idea when they were experimenting with 3D-printer-friendly materials (sawdust, that kind of thing) for fabricating architectural models. "We tried sugar," Kyle von Hasseln told me, "just because it was cheap—and then we realized that if we modified it, we could eat it."
And what about making the eating ... actually pleasant? How do you make construction materials taste good? "We got into the material science of it," Von Hasseln says. "A chef probably could have gotten it really quickly," he laughs, but it took him and Liz several tries, he says, before they got a formula that would combine structural integrity with good flavor.
So then … what do 3D-printed confections taste like? I sampled Sugar Lab's chocolate offering. And the stuff tasted pretty much like traditionally manufactured chocolate does—except a little less sweet, a little bit drier, a little more crumbly. You know how chocolate, after it melts and rehardens, has a slightly different flavor and texture than it did before? The 3D-printed chocolate is like that.
But what it lacks in tastiness, it makes up for in prettiness. Imagine being served this towering thing for dessert.
( Image via vsl / Shutterstock.com )