The Crowd May Have Answers, but Agencies Must Define the Problem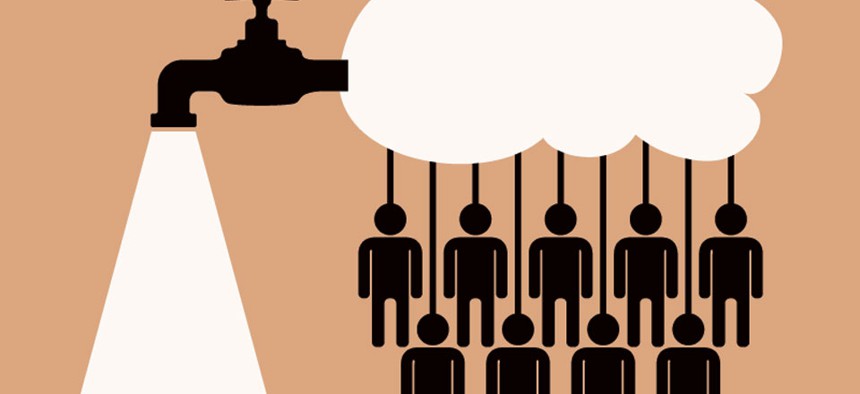 Crowdsourcing can be a great aid to government agencies looking for fresh ideas, distributed wisdom or volunteer labor, but not all crowdsourcing is the same, according to a report from the IBM Center for the Business of Government released Monday.
The report distinguishes between four main types of crowdsourcing government agencies can use.
They are:
Knowledge Discovery and Management: This is when an agency relies on the public for information collection, such as the U.S. Geological Survey's Did You Feel It program, which asks citizens to report when and how they felt an earthquake hit. Police departments may also ask citizens for help locating criminals or missing people.
Distributed Human Intelligence Tasking: This is when an agency asks the public to analyze or process large amounts of digital information, such as the National Archives and Records Administration's Citizen Archivist program, which asks the public to transcribe old documents.
Broadcast Search: This is when an agency sends out a call for new ideas, tools or technology to solve a particular problem. Government agencies have launched numerous such challenges through Challenge.gov and other websites such as Innocentive. NASA, which has been a leader in challenges, crowdsourced the creation of a new space glove, for example.  
Peer Vetted Creative Production: This is when agencies challenge the public to create an ad campaign or a new brand design. It's different from Broadcast search because the winning entries are based on artistic taste rather than something that can be empirically proven. Many Challenge.gov contests focus on artistic competitions.
Crowdsourcing can help agencies save money, spur innovations in important industries and, in some cases such as the Citizen Archivist program, complete more work than could ever be done in house.
Before launching a crowdsourcing initiative, though, governments or agencies should clearly define the problem they're looking to solve and the type of solutions they're after, the report said.
"Asking an overly broad question of an online community, such as 'What is your vision for the city in 10 years?' will generate thoughtful responses and may turn out to be quite a valuable exercise in public participation and long-term visioning for the city," the report said. "But it is almost certain that the broad question will also elicit from citizens a wide range of responses, many vague, few feasible, which present city planners with the problem of selecting the best ideas from a mixed bag of apples and oranges."
(Image via igor kisselev/Shutterstock.com)