Q&A: Twitter Chief Talks to Washington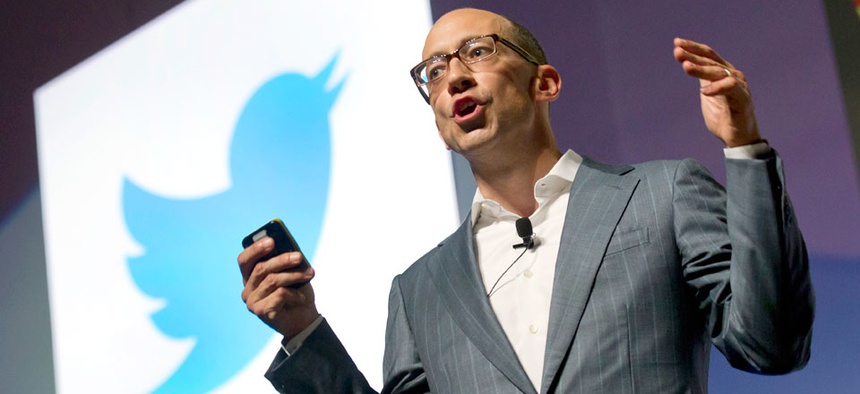 Twitter is like a digital town hall where people can coalesce around a particular issue, whether they agree, disagree or want to protest, the micro-blogging site's CEO Dick Costolo told an audience at the Brookings Institution think tank Wednesday.
The greatest share of questions during the question-and-answer session with Costolo focused on the National Security Agency's recently exposed PRISM program to mine data from popular web services such as Google, Amazon and Facebook. The conversation also touched on Twitter's role in anti-establishment protests in Iran, Egypt and Tunisia and how the micro-blogging site may one day give followers a deeper understanding of how events unfold.
Twitter was notably absent from a list of popular programs cooperating with the NSA program in an internal slide leaked by former contractor Edward Snowden. Costolo repeatedly declined to answer specific questions about PRISM. He said the company complies with narrow legal requests from state and national governments but pushes back on requests it considers too broad.
Here's a rundown of some of Costolo's most important comments for social government watchers. Some comments are edited for length and clarity. To watch the full discussion, click here.
Does the fact that tweets are public by default change how Twitter works in the public sphere and what government seeks from it?
We like to say Twitter is a global town square. It's all public, real time, conversational and widely distributed. And public is the first word there. So the fact that it's all public and broadcast and not a private network makes some of these things easier for us to deal with.
On Twitter's role in the Arab Spring protests and protest following the 2009 Iranian presidential election:
A town square happens to be a particularly good place to aggregate and protest. So you can have these direct conversations with everybody in the moment in real time who feel similarly about some issue or want to debate some issue. That town square aspect of it is why people take to it as a platform to organize protests.  
Because you can use a pseudonym [Twitter's] a particularly helpful platform for political speech. In fact, in Tunisia, one of the protesters was @slim404 who [was formerly a government] minister in Tunisia. We don't ask for a phone number or a mailing address or things like that. The flip side to that coin is that it allows frankly for people to behave like trolls with celebrities and say all sorts of horrible things hiding behind a pseudonym.
How Twitter can improve decision making in Congress?
I don't know what the answer to that is. Pass.
How does Washington look from Silicon Valley?
In Los Angeles you get into discussions about the difference between southern California or northern California, and here [in Washington] or in New York City it's the difference between the East Coast and the West Coast. I think these [differences] tend to be exaggerated in many ways. People ask 'how can Twitter be used to make government make better decisions?' Most representatives and most senators are already using [Twitter] and leveraging it quite well and very much paying attention to it. So I don't think there's this sense of what needs to happen here to make it more like there. I just don't think that way.
On Twitter's plans to deliver more valuable data:
The ability to track and monitor the moments within an event, either as they happen or to catch up with them, is something we want to enhance…Right now you get the reverse chronological order of the tweets. It would be nice to see a graphic of spikes in the conversation and what time they happened. You could see half an hour ago there was a big spike in the conversation about this particular trend and you'd be able to peel that back to see what happened at that particular moment.
People will frequently ask me 'how do you surface the signal from the noise?' When Brazil scores a goal in a soccer game and everyone in Brazil tweets 'goal!' how do you surface signal from that. We tried a couple things during the Olympics where we said 'we'll curate high authority accounts of commentators or athletes and…you won't have to dig through everything else.' The amazing thing about that was that you lost the roar of the crowd that really made Twitter feel like Twitter…Suddenly we were more of an aggregator and less of a public town square. So we need to maintain the roar of the crowd while surfacing those moments and that's what we're trying to do with the experiments we're running.