Think That Government Prize Contest Was Fixed? Take It To Court.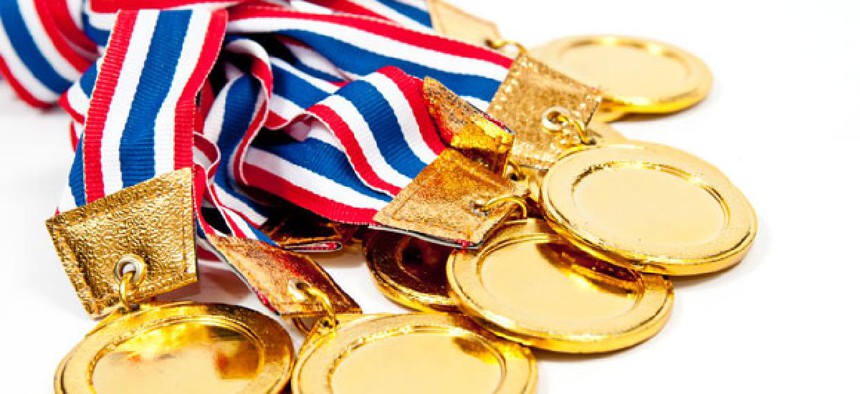 The Government Accountability Office has no jurisdiction over disputes that arise from prize competitions and challenges run by federal agencies, the office said in a decision Friday.
This is the first time GAO's procurement law division has been asked to render an opinion on a government contest, Ralph White, the office's managing associate general counsel for procurement law, told Nextgov Tuesday.
Agencies have increasingly used prize contests to search out innovative approaches to thorny problems since Congress explicitly gave them the authority to do so in 2010. Since then agencies have hosted over 200 challenges on Challenge.gov and other sites.
GAO routinely adjudicates disputes with government vendors who believe they were wrongly denied a contract or excluded from competition. Its decisions are not binding on agencies, but agencies often follow them.
The protest decided Friday was filed by David Frankel, a Silicon Valley inventor who entered a Federal Trade Commission contest that offered $50,000 for the best new system to prevent illegal robocalls. Recorded sales calls are officially illegal but some organizations and many scammers flout the law.
Frankel told Nextgov he doesn't necessarily believe he should have won the contest but thinks the FTC wasn't honest or transparent about its grading criteria.
GAO's ruling was not surprising given the narrow range of disputes GAO is allowed to hear under the 1984 Competition in Contracting Act, said George Washington University Associate Dean for Government Procurement Law Studies Daniel Gordon.
That act gives GAO the authority only to evaluate disputes that are regulated by procurement law, which excludes not only most prize contests but also grants, which account for more government spending than contracts, he said.
"GAO has always been scrupulous about limiting its jurisdiction to the language in the Competition in Contracting Act," Gordon said. "As a policy matter, it would probably be good to have a forum that could hear protests about grants and contests, but we don't have such a forum today."
If its mandate was expanded to hear grant disputes, GAO would need more staff, he said.
Frankel was initially bothered by the Robocall Challenge results, he said, because he believed the winning solutions were too costly and wouldn't be effective. In particular he objected because many of the top solutions targeted the number that appears on a caller ID, which can be easily spoofed, rather than tracing the robocall back to its source, he said.
Frankel asked FTC for documentation describing how the judges had scored him on criteria included in the official rules along with corresponding scores for the top 20 solutions. The agency declined to provide the information, he said.
After Frankel filed a Freedom of Information Act request, the agency provided grade information for the top seven scorers but did not provide Frankel's own grading information, which the agency said it didn't have.
"She said 'I assure you the judges went through it meticulously but we don't have spreadsheets with numbers,'" Frankel said. "So I became more suspicious that this challenge was not undertaken rigorously."
Frankel has formally asked GAO to reconsider its ruling. If that doesn't work, he said, he'll pursue the matter at the U.S. Court of Federal Claims or in U.S. District Court. Frankel, who is not an attorney, has represented himself throughout the process and will continue to do so, he said.
"I'd like to see the contest scored according to the process they defined and I don't know if that makes me the winner or someone else," he said. "I got interested in robocalls by virtue of this contest and I want the problem fixed. I don't think the telephone networks in this country should be held hostage by some idiots lobbing billions of calls into the network, illegally disturbing people, wasting time and scamming some unfortunate individuals that fall prey to them."
(Image via hin255/Shutterstock.com)