How One Agency Juggles Rising Energy Bills With Shrinking Budgets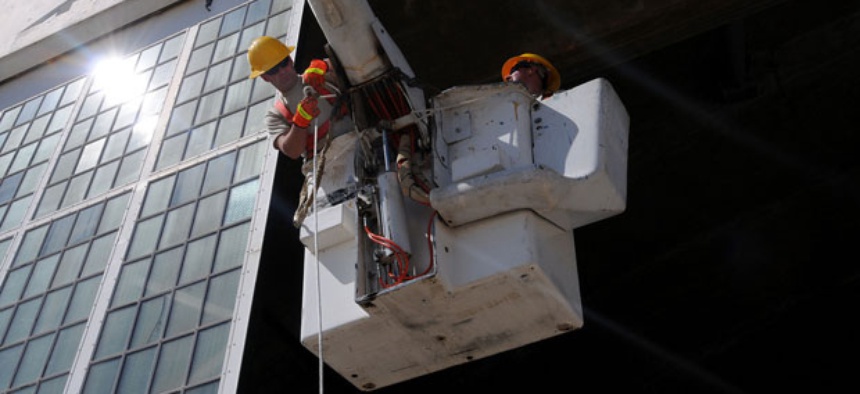 This is the seventh in a series of sustainability case studies developed by the Center for Climate and Energy Solutions.
It is no secret that energy costs are steadily growing as federal budgets are shrinking. That's why, according to the Coast Guard's Energy Program manager, Daniel Gore, "it is imperative that federal agencies identify creative solutions for difficult obstacles."
One obstacle to making the upgrades necessary to save energy in the long run is getting the funding up front. Creative solutions include such innovative financing tools as energy savings performance contracts. ESPCs allow agencies to partner with a private sector energy service company to implement energy-savings measures without making significant outlays. The company pays for building and equipment upgrades and then recoups its investment by receiving a portion of the energy cost savings realized over an agreed-upon period of time.
Energy challenges were particularly pronounced at the Coast Guard's shore-based operations in Puerto Rico, where the cost of electricity is more than double the U.S. average because of the island's dependence on expensive fuel imports.
In 2010, the Coast Guard used an ESPC to substantially upgrade 360 aging buildings and housing units across three facilities in Puerto Rico. The project wiped out a 10-year backlog of deferred maintenance, replacing uninsulated and leaking roofs while also installing new lighting and energy controls plus three megawatts of solar photovoltaic power.
The payoff from the project was substantial: a 53 percent reduction in energy consumption, which equates to $2.2 million in annual savings. These dollar savings are guaranteed under the ESPC. If in a given year the energy savings are not realized, the energy service company will reimburse the Coast Guard for the difference.
The shift to onsite solar power also improved electric reliability to Air Station Borinquen, which is on the end of the island's electricity grid and is vulnerable to outages. It's now producing nearly 85 percent of the energy it consumes via solar panels.
One additional benefit from the project not only saved money but also improved morale of the personnel based at Sector San Juan. The upgrades meant the Coast Guard no longer had to pay "premium" benefits because of the inadequate, uncomfortable housing facilities.
Federal agencies have worked with energy service companies to implement nearly 300 ESPC projects since 1998. The Puerto Rico project stands out for its scope -- it's the largest Coast Guard ESPC project as measured by cost savings -- and its inclusion of renewable energy.
The Coast Guard is a leading by example in maximizing the use of innovative financing to cut its energy consumption and costs and advance its sustainability goals.
Read the full case study here.