NASA Establishes a Sustainability Base on Earth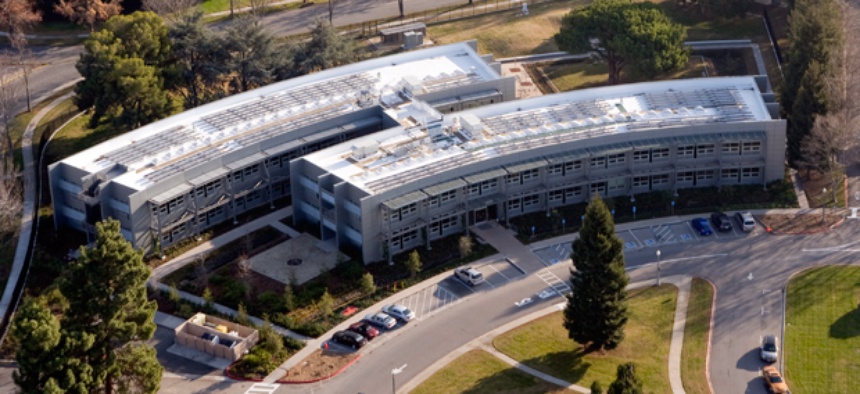 This is the second in a series of sustainability case studies developed by the Center for Climate and Energy Solutions.
In 2007, NASA began an agency wide initiative to replace its aging facilities with smaller, more efficient buildings. When agency leaders selected the Ames Research Center in Northern California for funding, officials at the center proposed a fairly traditional replacement facility. But when Ames Associate Director Steve Zornetzer saw the plans, he had a different vision: Make the building a showcase of NASA's technological expertise and leadership in imagining the future.
"It was inconceivable to me that in the 21st century, in the heart of Silicon Valley, NASA would be building a building that could have been built 25 years ago," he said.
"NASA had to build the highest-performing building in the federal government, embed NASA technology inside and make a statement to the public that NASA was giving back to the people of planet Earth what it had developed for advanced aerospace applications," he said.
But there was one catch: The redesigned building couldn't cost more than the originally proposed project.
The Sustainability Base, as the project became known, centered on four elements:
Make maximum use of the existing environment;
Employ advanced technologies to minimize energy consumption and maximize efficiency;
Install advanced monitoring and adaptive operational systems;
Create a living laboratory for research into advancing sustainability goals.
Faced with a tight timeline and budgetary constraints, the architects and contractors chose design tools that allowed fast and effective communications among all involved. The design team relied on a Building Information Modeling process based on Autodesk Sustainability Solutions, which was integrated with other modeling tools. This facilitated communication across teams and aided in making design decisions quickly and accurately.
The building's core design elements included a complex radial geometry, an innovative steel-frame exoskeleton, and numerous eco-friendly features, such as geothermal heat and cooling , natural ventilation, high-performance wastewater treatment, and photovoltaics on the roof.
The resulting $26 million, 50,000-square-foot, two-story building houses 220 office workers, including scientists, managers, mission support personnel and financial specialists. The extensive floor-to-ceiling windows and open spaces fully embrace the natural daylight. With reduced demand for artificial light and the application of high-efficiency radiant heating/cooling systems, the building site produces more electricity than it uses and is on its way to reducing potable water consumption by up to 90 percent compared with a comparable traditional building.
Read the full Sustainability Base case study here.