Government Map Site to Get Springtime Upgrade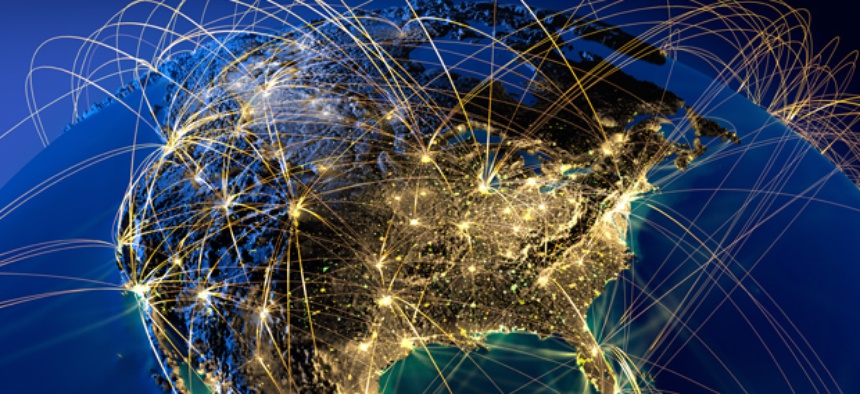 The government plans to re-launch the 15-month-old federal map sharing website Geoplatform.gov this spring with a new set of user communities similar to those on the government data repository Data.gov, an official said Monday.
The user communities will be organized into 17 themes outlined by the Office of Management and Budget, including soil, property, inland water, oceans and transportation, said Interior Department Geospatial Information Officer Jerry Johnston.
Agencies will also be able to share and store geospatial applications inside the revamped site, Johnston said. He was speaking at Esri's Federal GIS conference. Esri is the largest government vendor for digital mapping systems.  
The idea for Geoplatform.gov sprang in part from the 2010 Deepwater Horizon oil rig explosion, when agencies had difficulty sharing crucial mapping information with each other and the public because their maps were often hosted in proprietary data centers.
Johnston is a member of the Federal Geographic Data Committee, which is managing the Geoplatform site. The committee has made some improvements in information sharing, he said, but many agency maps are still behind firewalls.
The committee has focused on sharing as much information as possible between Geoplatform.gov and geographic data posted to Data.gov, Johnston said. Ultimately, federal mappers will be able to load information and mapping applications once and make them accessible across both sites, he said.
The two sites will also share a single metadata catalog so users can search for mapping information on both sites at the same time, Johnston said.
Agencies are increasingly using digital maps to help formulate policy, for instance by laying maps of endangered species habitats, watersheds  and human populations on top of each other to determine where to focus conservation efforts.
Some agencies have also built map-based applications such as an Agriculture Department tool that locates the nearest store that accepts food stamps.
The first day of Esri's conference was largely devoted to showcasing new features of its ArcGIS product, which many agencies rely on for their digital mapping through service level agreements.
The biggest advance in Esri's offerings in the next year will be focused on using new data analysis tools to integrate near-real-time information from satellites, video, social media and other sources into ArcGIS maps, President Jack Dangermond said.
An Esri employee demonstrated how the new tool could map Twitter data gathered during Hurricane Sandy across lower Manhattan to pinpoint which blocks were experiencing the greatest percentage increase in Twitter traffic and mine through those tweets for tips about downed power lines and other emergencies.