Lithium ion battery short circuited in first 787 Dreamliner fire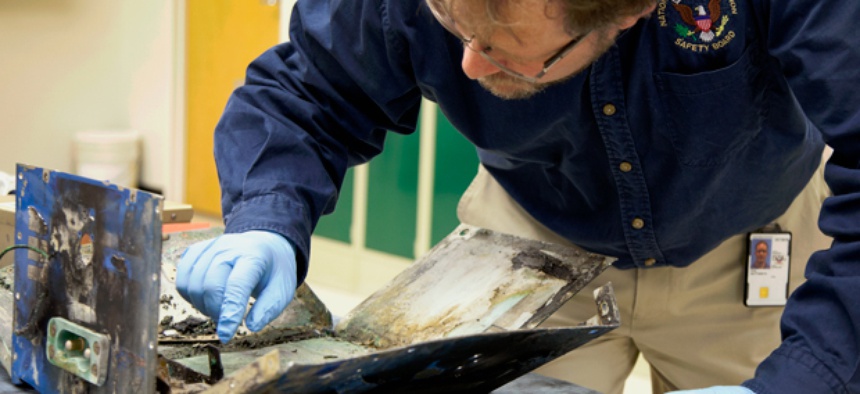 This story has been updated.
The National Transportation Safety Board has determined lithium ion batteries on a Japan Airlines Boeing 787 Dreamliner that caught fire on Jan. 7 at Boston's Logan Airport experienced short circuits and a "thermal runaway" -- a rapid, uncontrolled increase in temperature, NTSB Chairwoman Deborah A.P. Hersman told reporters at the agency's Washington headquarters today.
Hersman said such events "should not happen" on an aircraft that incorporated multiple systems to protect against fires. Boeing and aviation regulators worldwide grounded the 787 fleet after another aircraft operated by All Nippon Airlines made an emergency landing on Jan. 16 after experiencing what Hersman called a battery "smoke event," not a fire.
Hersman said aircraft should never experience such events, particularly two on the same type of aircraft in two weeks.
"This is a very serious air safety concern," Hersman said, referring to the battery problems. 
NTSB  examined the main battery pack, manufactured by GS Yuasa of Kyoto,  from the JAL 787 using a number of advanced scanning tools, including computed tomography (CT scan), and determined three of the eight cells showed signs of thermal runaway and different rates of short circuit damage; another cell showed high current damage.
Joseph Kolly, NTSB director of research and engineering, said the thermal runaway in the JAL 787 batteries could have been caused by short circuits or by "collateral damage from a neighboring cell."
NTSB investigators are working around the clock in Washington and Japan to determine the cause of the 787 battery problems, in partnership with the Japan Transportation Safety Board, the FAA and Boeing, Hersman said. The Naval Surface Warfare Center, Carderock Division, in West Bethesda, Md., which has worked with lithium ion batteries since the 1970s, has provide "invaluable" assistance, Hersman said, but provided no further details.
NTSB has compared the charred battery recovered with what Hersman called an "exemplar" battery and has downloaded data from numerous 787 onboard systems, including the flight data recorder, or black box. The investigation is far from complete, however.
Hersman said investigators will examine not only the battery, but the globally sourced electrical power system Boeing chose to use instead of traditional hydraulic systems in an effort to reduce weight. NTSB is working to find out why the JAL battery caught fire "when so many protections were built-in," Hersman said.
Thales, headquartered in a Paris suburb, has a contract for the 787's electrical power conversion system. GS Yuasa supplies batteries to Thales subcontractor Securaplane, which manufactures the lithium ion auxiliary power unit and battery charger for the aircraft. Securaplane is a Tucson, Ariz.-based subsidiary of U.K.-based Meggiit PLC. NTSB is looking at this entire system to help determine the cause of the battery fire, Hersman said.
The system should have the ability to detect, mitigate and shut down batteries before a fire starts, Hersman said.
NTSB also will examine FAA's certification process for the Dreamliner's lithium ion batteries. In November 2007, FAA granted Boeing permission to operate the 787 under "special conditions," which acknowledged the known flammability of lithium ion batteries.
"Design of the lithium ion batteries must preclude the occurrence of self sustaining, uncontrolled increases in temperature or pressure," according to the conditions.
Hersman declined to say when NTSB might finish its investigation.