Officials say U.S., Taiwan 'discussing assurances' on sensitive nuclear activities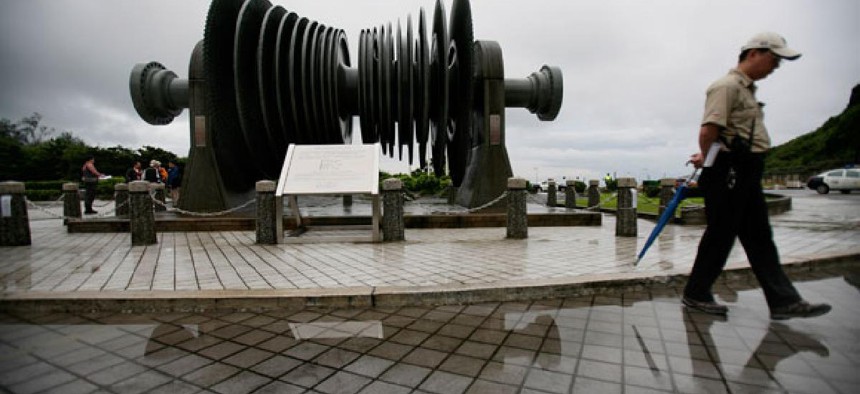 The United States and Taiwan have begun "discussing assurances" that could result in the East Asian nation's pledge to avoid sensitive nuclear activities as part of a bilateral atomic trade pact renewal, Taiwan government officials said.
In a two-day "prenegotiation meeting" last month in Washington, U.S. and Taiwanese officials launched talks on the anticipated renewal of their 40-year-old nuclear trade pact, according to the Taiwan government's written response to questions.
"We do not comment publicly on the details of any stage of our negotiations, but we are discussing assurances on enrichment and reprocessing," the Taipei officials told Global Security Newswire last week. The officials requested not to be identified in this article because of the diplomatic sensitivities surrounding the ongoing talks.
The island nation made news in July when a government official told GSN it would be "no problem" for Taiwan's leaders to embrace a strong nonproliferation stance by forgoing uranium enrichment or plutonium reprocessing in the new agreement. "Our government insists on peaceful use of nuclear energy, so we don't want to raise any proliferation concerns," the official said at the time.
The official in July went on to complain, though, that despite Taiwan's efforts to press U.S. diplomats since 2010 to begin negotiating the replacement accord, the State Department had not yet agreed to begin talks. The existing pact expires in less than two years and any renewal must go before the legislatures of both nations with significant lead time to prevent a gap in nuclear trade relations.
With the newly launched renewal talks, it appears possible that a trade agreement might be struck as early as next year. Such a head start on the calendar could be necessary for meeting a months-long waiting period of congressional review, mandated by U.S. law before a nuclear cooperation pact can go forward.
"The current agreement expires in June 2014, and both [the] Taiwan and U.S. [governments] are working closely to avoid a lapse between the current and succeeding agreement," the Taiwanese officials said last Wednesday. "Based on our past cooperative relations, we anticipate close cooperation on a wide range of issues."
Taipei did not say when talks would next be held or might be completed. A U.S. State Department spokeswoman was unable to offer comment by press time.
Such an agreement would extend Taiwanese access to U.S. nuclear materials, technologies and expertise. A no-enrichment-or-reprocessing pledge accompanying the pact might ease any concerns that Taipei would use these sensitive civil energy activities to gain a clandestine nuclear bomb-making capability, along the lines of what Iran is widely suspected of doing.
A voluntary ban on sensitive nuclear activities could also represent a significant model for future nuclear accords, nonproliferation advocates say.
If Taiwan proceeds as anticipated, it could become the second U.S. nuclear cooperation partner to incorporate the pledge into its bilateral trade pact. The United Arab Emirates made this type of nonproliferation promise in its 2009 atomic trade agreement with the United States, leading a State Department spokesman later that year to dub the move the "gold standard" for U.S. civil nuclear accords.
State Department staffers last year put Taiwan ahead of other nations in line to negotiate atomic trade pact renewals, according to Energy Department correspondence obtained byGSN under the Freedom of Information Act.
It remains unclear why the effort to initiate the talks subsequently stalled. However, it came as Obama administration undertook three successive internal policy reviews to determine in which instances it would seek to duplicate the gold standard in bilateral atomic trade.
A policy for approaching the matter on a "case-by-case" basis flopped early this year on Capitol Hill in the face of significant bipartisan criticism. Lawmakers said the policy did not appear strong enough to prevent future U.S. atomic commerce partners from undertaking activities that might expand the spread of nuclear arms.
Since then, Rose Gottemoeller, the acting undersecretary of State for arms control and international security, has said Washington "is always pursuing the highest standards" and has cited voluntary global export guidelines as helping to reinforce nonproliferation goals.
The most recent interagency recommendation -- which remains secret -- is said to be on President Obama's desk for a policy decision.