CEA chief calls for SOPA movement to block anti-net proposals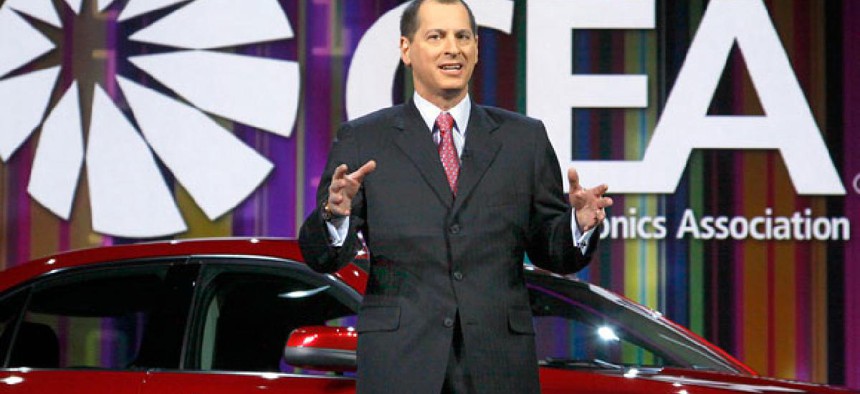 The CEO of the Consumer Electronics Association said on Tuesday that critics of international efforts to increase regulation of the Internet need to band together like they did last year to defeat U.S. anti-piracy legislation that was strongly opposed by Internet activists and tech companies.
"The world needs a PIPA-SOPA moment," CEA chief Gary Shapiro told reporters during a briefing on Tuesday, where he discussed next month's meeting of the International Telecommunication Union, when member countries will gather to reexamine international telecommunications rules. Shapiro was referring to last year's unprecedented protest that derailed legislation known in the Senate as the Protect IP Act, or PIPA, and in the House as the Stop Online Piracy Act, or SOPA, that aimed to crack down on piracy and counterfeiting on foreign websites. CEA and other critics argued that both bills would harm free speech and hamper innovation on the Internet.
Shapiro and other tech industry representatives, along with U.S. government officials, have voiced concern about proposals that could be offered at the ITU meeting in Dubai, which begins next week and runs until Dec. 14. Among the proposals that have caused concern is one that would require websites to pay extra to reach users in other countries.
Shapiro, who sits on a State Department advisory committee on international communications and information policy, and others also say they are worried about another proposal that would give countries greater ability to censor Internet users under the guise of attacking Internet fraud.
"I've never seen the U.S. more unified" against a proposal, Shapiro said. Noting the strong U.S. opposition to such proposals, he said he believes the U.S. government has been "doing everything it can in a game where the rules are stacked against us."
Google and others have tried to rally support from Internet users against some of the ITU proposals. Google has launched a "Take Action" campaign that warns that some governments that currently censor their citizens' access to the Internet "are trying to use a closed-door meeting in December to regulate the Internet."
Shapiro said that while he would like to see the Internet community rally around efforts to block the controversial proposals, "the problem is it only works with countries that listen to their own people."