White House: Eyes on a prize could stir innovation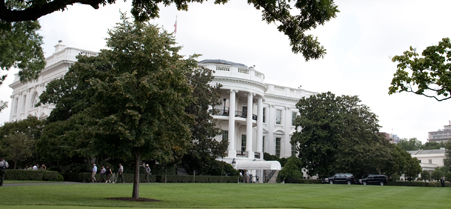 Chuck Kennedy/White House
The White House Office of Science and Technology Policy followed up its Tuesday report on the effect of prize challenges in government on Thursday with a wish list for future challenges.
The government, for example, could fund a challenge for a digital tutor that would enable high school graduates to become certified in a trade in a matter of months, drastically raising their lifetime earning potential, OSTP Deputy Director Thomas Kalil said at a discussion sponsored by the Information Technology and Innovation Foundation.
A government or privately sponsored challenge also could aim to produce synthetic organs for transplants, or challenges from the defense community could pursue "ideas out of comic books," such as suits that allow soldiers to walk up walls, he said.
The White House touted prize competitions in a report released Tuesday as a way to unlock thorny problems with the wisdom of the masses and to aim for an ambitious goal without mandating a particular path to get there.
Many prize competitions are best organized as partnerships between the public and private sector, Kalil said, such as the $10 million Automotive X Prize sponsored by Progressive Insurance, the Energy Department and others to create a car that could reach fuel-efficiency levels above 100 miles per gallon.
Kalil's office is planning an event this summer that will encourage federal agencies and the private sector to collaborate on prize competitions, he said.
He also urged private and government organizers to design competitions so that they foster some level of collaboration between contestants rather than mere competition.
Rick Valencia, vice president of the healthcare firm Qualcomm Life, also spoke at Thursday's event. Qualcomm is sponsoring the $10 million Tricorder X Prize to create a personal device that monitors a variety of health symptoms and alerts users when they should see a doctor. The name of the prize comes from a device used in Star Trek , he said.