Border Wall Prototyping Begins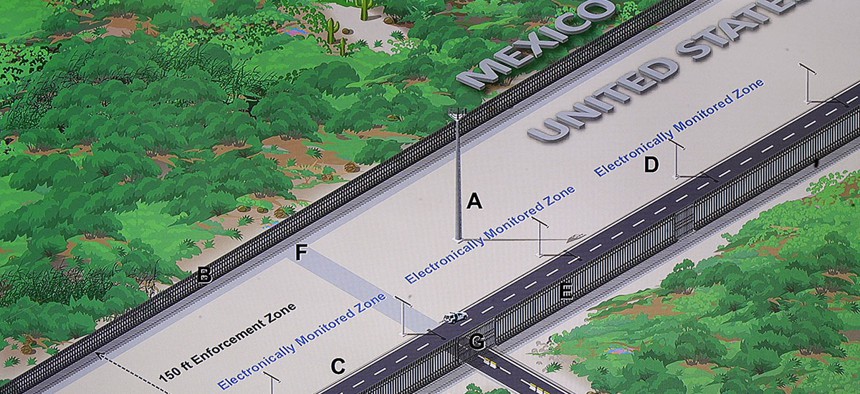 Four construction companies will soon start building prototypes for President Donald Trump's vision of an almost 2,000-mile border wall between the United States and Mexico.
Those prototypes could "complement other tools" at the border, Customs and Border Protection acting Deputy Commissioner Ronald Vitiello told the New York Times. He said companies were awarded contracts for between $400,000 and $500,000 and each prototype would be about 30 feet high.
Caddell Construction Company, Fisher Sand and Gravel, Texas Sterling Construction Company, and the W. G. Yates & Sons Construction Company, based in Alabama, Arizona, Texas, and Mississippi respectively, are working on the prototypes.
» Get the best federal technology news and ideas delivered right to your inbox. Sign up here.
The Homeland Security Department plans to add those parts to the border walls already established in San Diego, and officials will evaluate each section for its ability to keep out illegal drugs and entrants, the New York Times reported.
During his presidential campaign, Trump proposed building a wall that was "impenetrable, physical, tall, powerful," and "beautiful"—and that Mexico would pay for it. Instead, it seems likely the border protection system will be a collection of ground sensors, drones and other surveillance technology, in conjunction with physical barriers.
"It's unlikely that we will build a wall or barrier from sea to shining sea," then Homeland Security Secretary John Kelly testified in front of the Senate Homeland Security and Governmental Affairs Committee in April.
Lawmakers have suggested building the so-called smart wall that would incorporate fiber optics, unmanned vehicles and other technology. A recently introduced House bill would require Homeland Security to submit a plan for all the technology it plans to use at the border, complete with cost justifications for each mile. It would also set aside $110 million for CBP and the State Department to work together on border security.
"Violent drug cartels are using more modern technology to breach our border than what we are using to secure it," Rep. Will Hurd, R-Texas, one of the co-sponsors of the Secure Miles with All Resources and Technology, or SMART Act, said in a statement.
However, a physical wall might be most useful in urban settings, U.S. Border Patrol's acting Chief Scott Luck said at a House hearing in July. Walls and fences can help "stop the flow, helps displace the traffic so we can use technology assets, situational awareness to detect that traffic," in populated parts of California, for instance, he said.