It's Dangerous for Everyone When Food Companies Also Are Tech Startups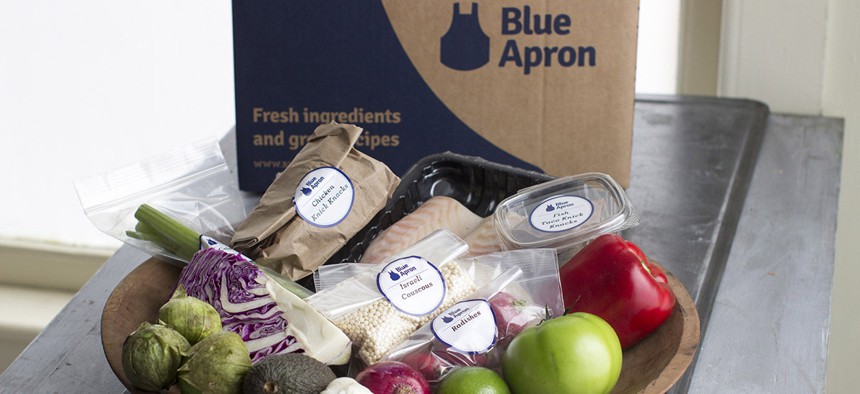 Silicon Valley has developed a special affinity for all things food: meal kits, plant-based burgers, newfangled food delivery services. But the growth demands on the typical tech startup don't necessarily square with the needs of food-based companies.
Catering to venture capitalists often drives startup founders to prioritize fast growth to capture new markets. That dynamic can be especially toxic when the product on offer isn't built with code, but with perishable food items that require attention to safety and quality.
The venture-backed meal kit company Blue Apron is a prime example. A damning article by Buzzfeed on Oct. 2 documented how, in its haste to expand, the company hired unskilled laborers for its main Richmond, California, facility and was the subject of nearly tens of thousands of dollars in fines for unsafe working conditions.
Blue Apron told Quartz its top managers realized it had moved too quickly to scale its operations.
"During certain periods in 2014 and 2015, we experienced exceptionally high, unanticipated demand for our product. This required us to rapidly grow our workforce at our facilities, and at times rely on temporary staffing agencies to supplement our recruitment of Blue Apron employees," the company said in a statement.
The company went on to explain it tried to take its foot off the pedal, by whittling down shipping options, cutting its marketing budget, and closing its referral program.
The food tech world is littered with other examples. Meal-replacement drink Soylent faced a lawsuit by a nonprofit environmental group claiming the drink exposes people to lead 12 to 25 times what California law allows. Vegan mayonnaise company Hampton Creek, a food-tech unicorn, suffered accusations by former employees that its products claimed a shelf life of six months but had only been tested for one. Hampton Creek is now under federal investigation for allegedly buying its own product off the shelves to goose demand.
That these stumbles come amid heightened concern about food safety is all the more reason to take it slow. Some companies have heeded the warnings. Rather than gunning for customers early, Perfect Day, a lab-grown milk company, went into a dark period after renaming itself, eschewing media interviews and publicity until it had further developed its product.
Plant-based beef companies Beyond Meat and Impossible Foods have also taken a slow tact, introducing their products only in only a few restaurants and retail outlets. There is, of course, a larger goal, according to Beyond Meat's founder Ethan Brown: "I want as many people as possible to have access to our products."