Official: Transition to New Recreation.gov Could Be 'Risky'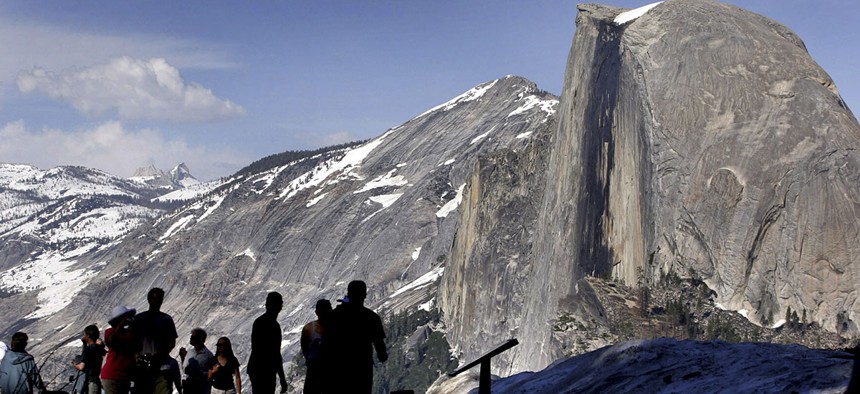 You could soon use a mobile app to book your campsite, if it's on federal land. And you might also use the app's GPS function to get to that site, or later to upload photos from your time there. Eventually, you might use it to search for nearby hotels.
At least, that's what officials from the departments of Agriculture and Interior envision for a revamped Recreation.gov, the federal government's online reservation portal for federal campsites, wildlife refuges and national parks.
A House Oversight Committee hearing on Tuesday probed Recreation.gov's future, as a 10-year contract for the management of the site by Reserve America, now Active Network, winds down. Earlier this month, the U.S. Forest Service awarded a new 5-year base contract to Booz Allen, with the option to extend in 1-year increments.
The site has earned media attention in the past couple of years because of a battle over access to its real-time reservation information, which would allow third-party booking services to know when certain campsites had already been reserved.
USDA and Interior eventually released an application programming interface related to static data about federal land -- information about the location of sites, for instance. However, sharing real-time reservation data remains a challenge, said Rick DeLappe, Recreation.gov program manager within the National Park Service, during the hearing.
"Real-time availability is important," Delappe said. "As we move forward, we look to take [sharing] to the next step, so we can provide those third parties tools that they can help their visitors find that information, without having to transfer" to a federal site, he explained. If federal agencies set up the appropriate agreements with third parties, Recreation.gov could eventually direct visitors to nongovernment operated services.
Handing the reins to Booz Allen might keep some of that data in limbo, Delappe said -- the transition from Active Network management could result in a gap in services. It's "admittedly risky," he said, especially for visitors who made a reservation in the old system but won't be arriving until the new system is implemented.
And a protest filed Monday by a competitor one day before the hearing -- Delappe declined to name the company -- has put the contract on hold, he explained. The Government Accountability Office has until August to examine the complaint. The Recreation.gov team had allowed about 15 months for development and deployment, and Delappe said he hoped it didn't coincide with the height of reservation seasons.