Feds Heighten Scrutiny of TSA Screeners and Aviation Staff to Thwart Insider Threat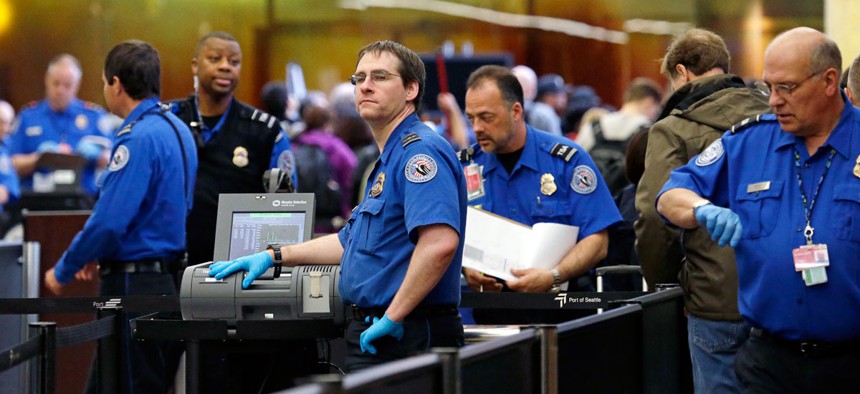 The prospective measures stem from a report the Department of Homeland Security requested after a former baggage handler last December allegedly helped smuggle loaded guns aboard a plane bound for New York City.
Transportation Security Administration and aviation industry employees will be subjected to heightened electronic surveillance following several incidents involving insiders who abused their badges to traffic guns, federal officials announced Monday.
Among the actions that kick in immediately are random passenger-like screening of airline employees throughout the workday and biennial criminal history checks, until there is a system in place for "real-time recurrent" FBI background checks for all aviation workers, officials said.
TSA potentially also might monitor social media communications of individuals near certain airports, as well as suspect employees. And threat assessments of employees could be expanded to include cross-checks of employee information against additional U.S. and international watch lists.
The new and prospective measures stem from an advisory panel report the Department of Homeland Security requested after a former baggage handler last December allegedly helped smuggle loaded guns aboard a Hartsfield-Jackson Atlanta International Airport plane bound for New York City. Eugene Harvey, 31, was arrested in Atlanta and an alleged accomplice, also a former Delta employee, was apprehended in New York. 
"I am confident that the potential insider threat posed by aviation industry employees will be significantly mitigated as a result of these recommendations," DHS Secretary Jeh Johnson said in a statement Monday. 
The background check system under development, called "Rap Back," will provide immediate notifications about criminal and, in some cases, civil activity of individuals in the FBI's mammoth biometric database. The Aviation Security Advisory Committee called for an "immediate pilot" and full operation by the end of 2015.
TSA will analyze all the guidance in report to see if other steps can be instituted down the road, Johnson said. 
One potentially divisive recommendation: "When a threat stream is identified, monitoring of social media via keyword GEO Fencing at the appropriate airport, or monitoring of the social media of suspect employees, can be effective tools to determine the existence of an insider threat."
The committee acknowledged that social media monitoring "can be contentious" if not done appropriately, "but it is vital to today's security." DHS was hit with a lawsuit a few years ago for a national security surveillance program that would work, in part, by having the government concoct fake social media usernames and profiles to spy on users.
Other inspection techniques suggested include feeding security camera footage into prediction software that can flag odd activity.
"CCTV monitoring, video analytics or predictive analytical software would focus on anomalies, behavioral patterns, carriage of bags, etc.," the report states.
Airport Watchers Might be Watched Online
Under the new program, threat assessments of employees might harness more data points, including Social Security numbers, searches of the Systematic Alien Verification for Entitlements database, DHS' fingerprint database, and a list of individuals disqualified from TSA PreCheck expedited screening. Foreign nationals and foreign-born employees would be cross-checked against international databases.
Some civil liberties groups said the cases that precipitated the changes do not warrant probing the entire airport workforce.
"The justification that the government has presented is not enough to warrant these measures," said Ginger McCall, associate director of the Electronic Privacy Information Center, or EPIC, who specifically criticized the use of the FBI's Rap Back service. "These are relatively isolated incidents versus a very, broad very invasive program."
EPIC sued DHS to reveal more information about the department's earlier social media monitoring plans.
Other privacy activists questioned the effectiveness of the new employee examinations.
"It's clearly a problem if airline employees are doing drug running," said Sophia Cope, a staff attorney at the Electronic Freedom Foundation. "Increasing the background checks seems reasonable, even CCTV within the airport areas, but I think there's a question as to how effective social media monitoring is going to be."
The key loophole to close is the ability of employees to skirt metal detectors and body scanners, she said.
Last December, Harvey was not subject to the head-to-toe screening passengers are required to undergo and Monday's overhaul stops short of requiring such screening of all employees. Orlando International Airport opted to institute full screening in 2007, after a Delta worker reportedly smuggled 14 guns and marijuana on to a flight headed for San Juan.
Johnson said the committee "concluded that 100 percent physical employee screening would not completely eliminate potential risks, but would divert critical resources from other critical security functions to mitigate other risks." All TSA employees already undergo screening whenever they fly. 
Some lawmakers, who had backed full screening of airport employees, expressed guarded optimism about the initial procedures announced Monday. 
"This is a decent first step," Sen. Bill Nelson, D-Fla., the ranking Democrat on a committee that oversees airlines, said in a statement. "But we need to continue to look at the long-term picture and see how we can broaden this in a cost-effective way."
Harvey is accused of using his employee badge to bypass TSA security and transport the illegal firearms. 
A TSA official Monday told Nextgov that "TSA employees would not be exempt from measures such as CCTV monitoring or other measures." Currently, the agency subjects government employees to a thorough background check before they are hired, the official said.
The airline industry, represented by trade group Airlines for America, backs the revamp of employee vetting.
"Our members fully support the measures announced by DHS, as they reflect our commitment to a risked-based approach to aviation security," Vaughn Jennings, Airlines for America managing director of government and regulatory communications, said in an email.
Industry participated in the committee's review. The "recommendations reflect strong collaboration between government, airlines and airports," she added.