Dallas Ebola Patient Sent Home Because of Electronic Health Record Snag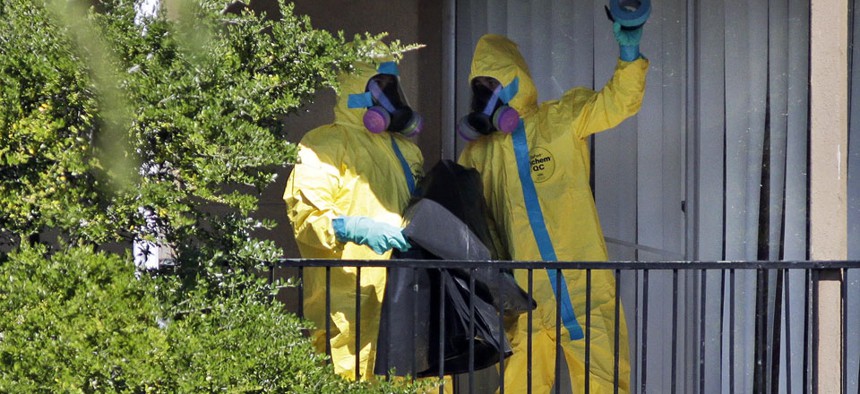 Thomas Eric Duncan has been in isolation for Ebola at Dallas' Texas Health Presbyterian Hospital since September 28—but that wasn't his first trip to that hospital. After developing a fever and abdominal pain on the 24th, Duncan sought care at the hospital on the 25th, but he was sent home.
During his initial visit, Duncan told a nurse that he had recently traveled to West Africa—a red flag that the CDC says should have sent hospital staff scrambling to test him for the lethal virus. Instead, the critical information about his travel was somehow lost in the shuffle among the various doctors and nurses treating him that day.
An understandable oversight, perhaps, but also one to which some might say: #onejob.
On Thursday night, the hospital released a statement explaining exactly how it managed to release an Ebola-infected patient back into America's ninth-largest city.
In short? Blame the robots, not the humans:
Protocols were followed by both the physician and the nurses. However, we have identified a flaw in the way the physician and nursing portions of our electronic health records (EHR) interacted in this specific case.
The hospital's electronic health record contains separate workflows for doctors and nurses. The information about the patient's travel history was on the nurses' side, but "it would not automatically appear in the physician's standard workflow." Which means the doctor wouldn't know about Duncan's recent trip to Liberia. Which means she'd have no reason to suspect Duncan had Ebola.
The incident underscores how important it is for doctors and hospitals to find EHRs that work well. The federal government has greatly incentivized the use of digital records, as opposed to paper charts, and nearly half of physicians now usethem. Increasingly, EHRs aren't just a convenient way to track appointments and vital signs, they're critical communication links that can make all the difference.
But as I've written before, these systems are often buggy, confusing, or—as in Duncan's case—contain gaping loopholes that prevent healthcare workers from sharing data with each other. Recent studies of EHR systems found that fewer than half allow hospitals to send a patient care document, and just 14 percent allow providers to exchange patient information with other practices.
A major RAND study found that doctors felt "current EHR technology interferes with face-to-face discussions with patients; requires physicians to spend too much time performing clerical work; and degrades the accuracy of medical records by encouraging template-generated doctors' notes." In this case, a flawed EHR might have lead to the spread of an incurable virus.
There are technical problems beyond the software, too: Ebola isn't even considered its own disease under the current medical classification system for diseases, called ICD. Under ICD-9, the current version, Ebola shares a code with "multiple viral diseases." (The virus will have its own code under ICD-10, which rolls out next year.)
For its part, the Dallas hospital said it plans to make changes to its health record in order to prevent future such slip-ups:
As result of this discovery, Texas Health Dallas has relocated the travel history documentation to a portion of the EHR that is part of both workflows. It also has been modified to specifically reference Ebola-endemic regions in Africa. We have made this change to increase the visibility and documentation of the travel question in order to alert all providers. We feel that this change will improve the early identification of patients who may be at risk for communicable diseases, including Ebola.
Let's hope they won't ever have the chance to test it on another Ebola patient, though.