Air Force is Building Mini-Hospital in Liberia to Fight Ebola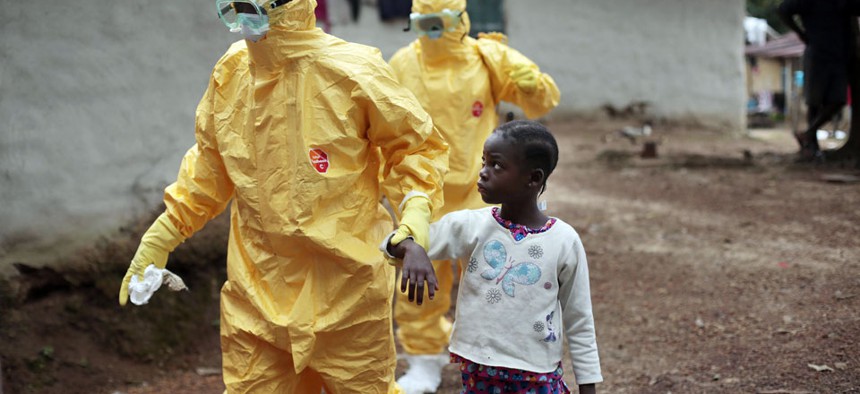 The Air Force's Air Combat Command has started installation of what its command surgeon, Brig. Gen. Sean Lee Murphy, described as "a mini-community hospital" in Liberia as part of the Defense Department's response to the Ebola outbreak in West Africa.
Murphy told Nextgov the 25-bed Expeditionary Medical Support System – or EMEDS – hospital dispatched to Liberia last month will be used to care for health care personnel in Liberia and will be turned over to the U.S. Public Health Service once it's operational.
The World Health Organization said in late August more than 240 health care workers had developed the disease in Guinea, Liberia, Nigeria and Sierra Leone, and more than 120 had died.
EMEDS, constructed from a series of modular tents, was first developed in the 1990s to support combat operations, said Col. Wayne Pritt, commander of the 633 Medical Group, which is based alongside the Air Combat Command at Langley Air Force Base in Virginia.
The system was later revamped to support humanitarian operations in the early 2000s. The Ebola mission marks another change of focus and the first time there will be an interagency handoff of the hospital, Pritt said.
"We are potentially setting a precedent, because the EMEDS unit is typically set up for things like trauma care … [Instead], we will be using it for an infectious pathogen and treatment of international health care workers," said Navy Rear Adm. Scott Giberson, public health service acting deputy surgeon general.
Mini-Hospital Slightly Smaller than Soccer Field
The EMEDS installation is supported by 34 airmen, including medical technicians and doctors who will leave Liberia once the EMEDS installation is completed, Murphy said.
EMEDS occupies an area about three-quarters the size of a soccer field and is located adjacent to the Monrovia airport, Pritt said.
EMEDS comes equipped with one computer server and 29 laptops, which can, among other things, run the Armed Forces Health Longitudinal Technology Application -- AHLTA -- electronic health record system, Murphy said. EMEDS also is equipped with Iridium satellite phones.
The mini-hospital also has its own laboratory, which can conduct blood tests and run X-rays with miniaturized digital systems, along with a pharmacy, Pritt said. He added EMEDS can be configured onsite to meet the needs of the public health service.
WHO put the total number of probable, confirmed and suspected Ebola cases in Liberia, Sierra Leone and Guinea at 7,470 cases. As of Oct. 1, there have been 3,431 deaths.
Largest U.S. Response to International Public Health Crisis
In a fact sheet released yesterday, the White House said more than 130 civilian medical, health care and disaster-response experts from multiple U.S. government departments and agencies have deployed to West Africa as part of the U.S. Agency for International Development response team.
The team includes about 350 U.S. military personnel. The Pentagon expects to eventually deploy slightly more than 4,000 personnel to West Africa.
This is the largest U.S. response to an international public health challenge, the White House said.
"We're having to stand up, essentially, a public health infrastructure in many of these areas that haven't had one before, and that requires an enormous amount of effort," Obama told reporters at a press conference yesterday.
The White House said the U.S. has committed more than $350 million to fighting the Ebola outbreak in West Africa, including more than $111 million by civilian agencies. The Defense Department plans to spend more than $1 billion on its operations there.
Obama said more international support is needed for the Ebola fight.
"We've got some small countries that are punching above their weight on this, but we've got some large countries that aren't doing enough," he said. "We want to make sure they understand that this is not a disease that's going to discriminate, and this is something that all of us have to be involved in."