Why This Tech Giant is Impressed with the International Ebola Response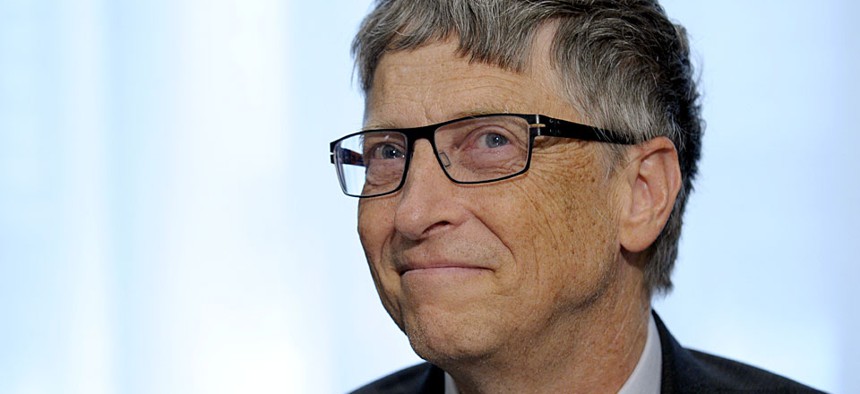 Bill Gates has a rare optimistic view of the global response to the Ebola outbreak currently ravaging West Africa.
"I think it is quite impressive what's being pulled together," Gates said of international efforts to fight the epidemic. "I do think we can get it under control."
The remarks from the Microsoft cofounder and humanitarian leader Monday are unusual praise for a response that has drawn much criticism for being too little, too slow, too late.
The Bill and Melinda Gates Foundation recently committed $50 million to help fight the outbreak.
There have been more than 6,500 reported Ebola cases and more than 3,000 deaths since the outbreak began nine months ago, according to the latest estimates from the World Health Organization. Most have been concentrated in Liberia, Sierra Leone, and Guinea, with more than half the cases and deaths occurring in Liberia alone.
The Centers for Disease Control and Prevention has projected that as many as 1.4 million people could be infected by Jan. 20 if control efforts aren't greatly improved, while WHO has predicted more than 20,000 cases by the beginning of November. WHO estimated that at least $1 billion will be needed to get the epidemic under control over the next several months.
Yet the world did not wake up to the severity of the crisis until this summer, and international relief efforts have been hesitant and slow-moving. Governments and international organizations have ramped up their aid in recent weeks, but officials say the pace of the outbreak is still surpassing the rate of response.
President Obama last week criticized the international response as insufficient, imploring other nations to make Ebola a top priority. "We are not moving fast enough. We are not doing enough," he said at a United Nations meeting Thursday.
Obama committed 3,000 U.S. military personnel to help address the outbreak on the ground, as part of a six-month, $750 million response plan announced earlier this month, and he urged other countries to step up their contributions. But the U.S. response has been criticized for coming far too late as well.
Gates would disagree.
"Was there some other government who took decisive action before we did? Was the data really clear? Was there a CDC equivalent who flew in and personally toured [the affected countries]? Is there someone else who's going to do the research to give us the vaccine that will be key to making sure this outbreak doesn't happen again? The U.S is the leader on being able to move into areas like this and being able to help out."
Gates emphasized the importance of setting up more treatment centers and training more health workers, saying what will ultimately make the difference is whether there are places for sick individuals to go to seek treatment, rather than returning to their communities and continuing to spread the virus.
Though optimistic about the progress, Gates declined to offer a guess as to when the Ebola outbreak may actually come under control.
"I don't think you'll get anyone to predict a date; it's hard, given it could spread out to other locations," he said. "Because of that uncertainty, I'm not going to hazard a guess. [But] this month the basic infrastructure in the three countries is going to get in place; the tent camps are going up quick, people are volunteering—it's great to see the energy. In the next 30 days, those pieces will fall into place."