Senator: The White House Should Launch a Criminal Probe of the CIA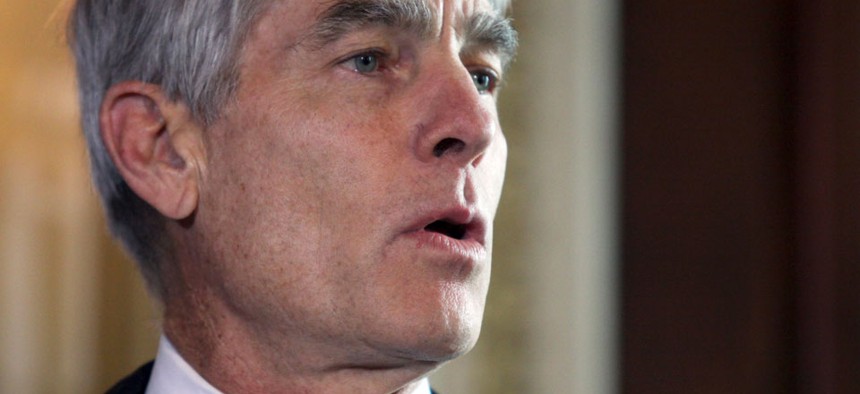 Senator Mark Udall, a member of the committee that conducts oversight of the Central Intelligence Agency, declared Thursday that the agency should be investigated by an independent counsel for violations of the Constitution, federal criminal statutes, and an executive order pertaining to surveillance.
"From the unprecedented hacking of congressional staff computers and continued leaks undermining the Senate Intelligence Committee's investigation of the CIA's detention and interrogation program to his abject failure to acknowledge any wrongdoing by the agency, I have lost confidence in [Director] John Brennan," he said. 
Earlier in the day, Brennan admitted the CIA spied on Senate staffers as they conducted an inquiry into torture of prisoners perpetrated by the spy agency—an act that makes a mockery of the separation of powers and is just the latest illustration of the spy agency's longstanding contempt for democratic strictures. 
Weeks ago, when Senator Dianne Feinstein accused the CIA of exactly that behavior, Brennan said, "I mean, we wouldn't do that. I mean, that's—that's just beyond the—you know, the scope of reason in terms of what we would do. When the facts come out on this, I think a lot of people who are claiming that there has been this tremendous sort of spying and monitoring and hacking will be proved wrong." He was either lying or woefully ignorant of what was going on at the agency he heads.
The Department of Justice, which has a dismal record of keeping the CIA accountable, declined to investigate the matter for criminal wrongdoing. The CIA's own findings were made public only after DOJ abdicated its responsibilities. The New York Times details what the CIA has now admitted:
An internal investigation by the Central Intelligence Agency has found that its officers improperly penetrated a computer network used by the Senate Intelligence Committee to prepare its damning report on the C.I.A.'s detention and interrogation program.

The report by the agency's inspector general found that C.I.A. officers created a fake online identity to gain access on more than one occasion to computers used by members of the committee staff, and tried to cover their movements as they rooted around the system, according to an official with knowledge of the investigation's findings.
McClatchy Newspapers explains what will probably happen next, instead of a criminal probe or accountability meted out to CIA agents who spied on the duly elected members of America's upper legislature: "Brennan has decided to submit the findings for review to an accountability board chaired by retired Democratic Sen. Evan Bayh of Indiana."
The head of the CIA can't decide for himself that this is widely inappropriate conduct that deserves the strongest possible sanction?