Why It Costs $1.7 Billion to Computerize Immigration Forms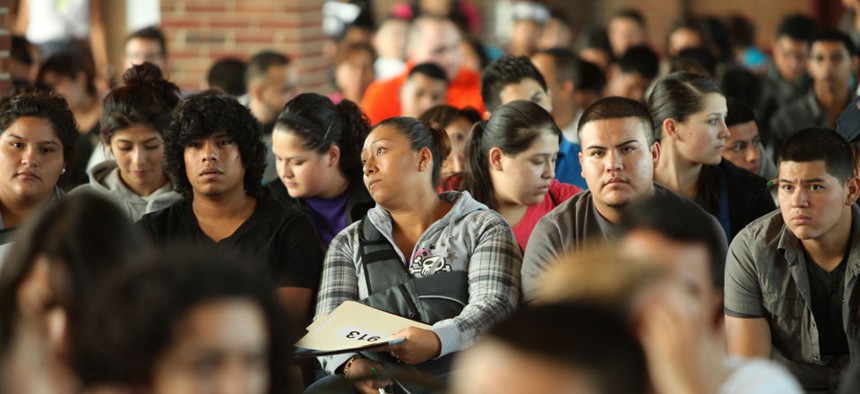 The agency in charge of processing immigration forms has awarded a potentially $58 million contract to four vendors to computerize the casework, as the government strains to handle the nation's 12 million undocumented foreigners. 
Tech Consulting, DV United, Cascades Technologies, and Agilex will earn software programming jobs from U.S. Citizenship and Immigration Services based on how well each performs during six-month periods. Breaking up development into short sprints, sometimes called agile development, is meant to identify problems before delivering a buggy information technology system to employees and the public. 
The deal is part of an effort to turn around an already-$1 billion project plagued by what agency leaders have characterized as flawed designs and contractor laziness. The ultimate cost and completion date of the initiative, called Transformation, had not been set as of March. IBM was the incumbent on the initial 2008 $536,000 contract. 
Traditionally, USCIS caseworkers have dealt with paper folders.
The new two-year contract, officially called the Flexible Agile Development Services, was awarded June 27, according to federal databases and vendors. 
Former agency IT officials have said agile is not a silver bullet. The officials, who requested not to be named because they fear retribution from the government, say underlying design and engineering problems are dragging out and adding costs to the project, similar to the issues that plagued the launch of HealthCare.gov. 
Agilex officials Wednesday said agile development doesn't solve problems, but it uncovers them very quickly. 
"Agile, just like any other technology, is not a silver bullet," Brad Cole, vice president for Agilex's justice and homeland security sector business, told Nextgov. "It's up to the contractors and the agency to be committed to the process as a whole," including policymaking and management decisions.
The new vendors will start work toward the end of September, according to Agilex. 
In March, InfoZen won a separate $11.9 million award to piece together the software developers' work and test the system's compatibility with existing program code, among other things. 
Foreigners now can e-file nine forms, including applications to replace permanent resident cards, as well as obtain entrepreneur green cards, travel documents and premium processing services. The public-facing side of the enterprise is called the Electronic Immigration System -- or ELIS -- a tribute to the historic immigration station Ellis Island. 
Transformation partly aims to help curb identity theft and document falsification. A former contract records custodian for USCIS was sentenced to 5.5 years in jail in 2011 for hacking computer files to help illegal immigrants obtain "legal" passports. 
The fee-funded project still suffers from delays and technical complications, according to the Department of Homeland Security, the parent agency of USCIS.
"Challenges associated with standing up cloud environments and USCIS underestimating the complexities of implementing continuous integration and builds within the development process" led to a "schedule breach," DHS Chief Information Officer Luke McCormack in April commented on the IT Dashboard, a federal website that tracks the progress of major IT investments.
His most recent evaluation, posted May 12, said, "USCIS and DHS are working to address critical engineering uncertainties that also contributed to the schedule delay: problems with the deployment pipeline and the availability of DHS maintained cloud environments."
USCIS officials were not immediately able to comment.