U.S.-China Nuclear Security Exchanges Hampered by Lingering Suspicions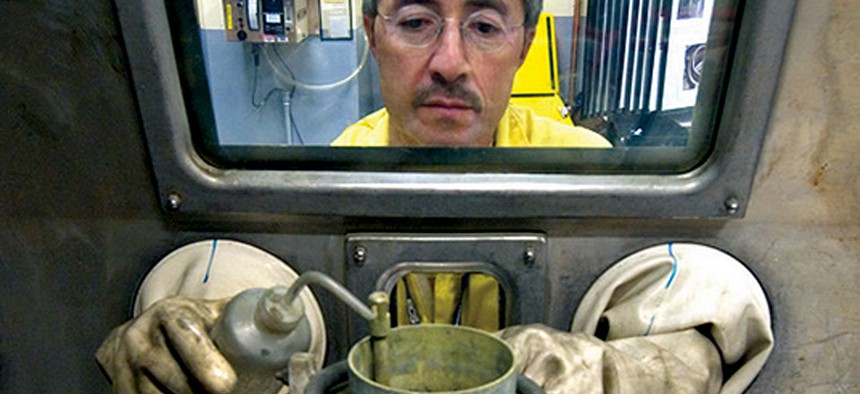 Years after Washington accused China of nuclear espionage, the subject of resuming laboratory-to-laboratory exchanges among scientists remains a sensitive one.
It has been 15 years since a congressional committee accused China of advancing its nuclear weapons program in the 1980s and 1990s by stealing thermonuclear warhead designs from the United States. And 14 years have passed since the FBI's espionage case against former Los Alamos physicist Wen Ho Lee collapsed and he was released from jail.
For at least one expert, that is enough time for the United States to now consider resuming nuclear laboratory exchanges with China in order to assist the latter country in improving its nuclear security practices. In an online post published last week by the National Interest, Hui Zhang, a physicist and expert on China's nuclear arms policies, argues that bilateral laboratory exchanges conducted from 1995 to 1998 should continue, beginning with "less sensitive activities that are identified as mutually beneficial."
The lab-to-lab program was canceled in the aftermath of allegations made in 1999 by a U.S. House select committee led by then-Representative Christopher Cox (R-Calif.) that China was using the scientific exchanges to pilfer classified nuclear weapons information.
In recent years, reports have surfaced that the Energy Department was contemplating restarting the laboratory contacts as a means of building two-way understanding about each side's nuclear arms policy.
Currently, Washington and the Chinese government are jointly funding the construction of a nuclear-securitytraining center in Beijing that is to focus on combating the illicit trafficking of atomic substances and technologies in the region. Last week, U.S. Energy Secretary Ernest Moniz discussed the issue of reducing the use of highly enriched uranium in research reactors with the head of China's Atomic Energy Authority.
At the same time, concern has been rising in the United States about cyber espionage committed by Chinese hackers. Last year, a Defense Department advisory board alleged that cyber attackers from China had gained access to the design plans for a number of U.S. ballistic missile defense systems. And a Pentagon report revealed a notable increase in recent years in the amount of military cyber espionage -- understood to originate from the Asia-Pacific region -- on radiation-hardened electronics. So-called "rad-hard" technologies have applications in nuclear weapons and ballistic missiles.
Beijing officially denies ordering digital intrusions against the networks of U.S. defense companies and government agencies. Chinese officials have argued Washington is being hypocritical in its allegations, given recent revelations by former U.S. intelligence contractor Edward Snowden about widespread National Security Agency electronic spying.
Still, Zhang, a senior researcher at Harvard University's Project on Managing the Atom, recommends that nuclear laboratory contacts be restarted. He'd like to see them begin with comprehensive bilateral discussions on best practices for remote monitoring of nuclear warheads, tracking and observation of fissile-material shipments, and safeguarding atomic arsenals. If these exchanges proceed smoothly, he proposes that, "based on the experience from U.S.-Russian cooperation, China and the United States may consider mutual visits and joint work at selected key sites."
For other researchers, such as Michael Auslin of the American Enterprise Institute, reinvigorating nuclear laboratory contacts with China is a dangerous proposition.
"Resuming nuclear laboratory cooperation with China ... is a terrible idea," Auslin, an expert on U.S.-Asia relations, wrote in an email response to questions from Global Security Newswire. "It sounds like it would be a good way to promote trust and best practices, but in reality has the high likelihood of becoming a Trojan Horse whereby the Chinese gain sensitive, if not vital, information about how we protect against threats and evaluate our nuclear programs."
Auslin found particularly objectionable Zhang's recommendation that Chinese specialists be allowed to observe"force-on-force" exercises at U.S. civilian atomic sites that are designed to assess a nuclear power operator's ability to protect sensitive materials from theft or disturbance by potential intruders. To do so "is an invitation to give away our deepest plans for defense of nuclear facilities," he said.
Lora Saalman, an associate professor at the Asia-Pacific Center for Security Studies, said she found some of Zhang's recommendations for best-practice exchanges worth exploring. But she argued that, at present, the suggestions appeared to be more beneficial to China than to the United States. To get backing from the U.S. government and policymakers, a stronger case should be made on how resuming the laboratory contacts would be good for the United States, she said in an email.
"To my understanding, there is already some momentum in U.S. official channels to re-start the lab-to-lab exchanges, but there has been longstanding reluctance on the Chinese side," which has previously demanded an official apology for the allegations made in the Cox report, Saalman said.