The House Science Committee Has Held More Hearings on Aliens Than on Climate Change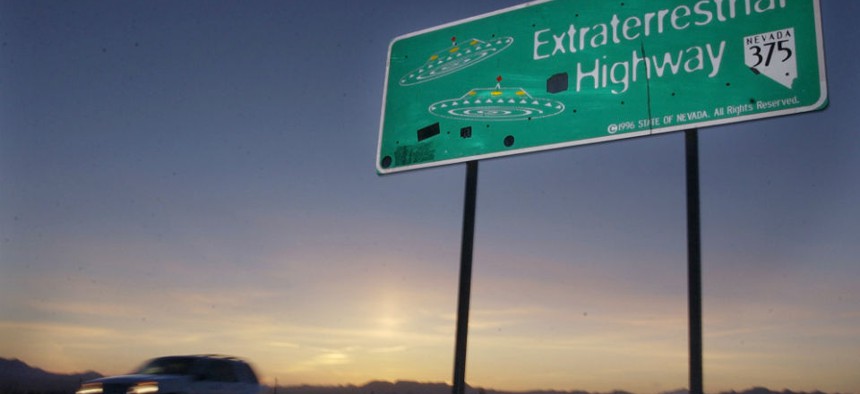 Congress is fascinated by the search for intelligent life on other planets. Apparently, they've given up the search at home.
In this session of Congress, House committees tasked with covering U.S. energy and science have held a total of seven hearings to discuss climate change. By contrast, the two chambers have held a combined 19 hearings about space exploration in that same time period.
The House Science, Space, and Technology Committee—led by Rep. Lamar Smith, R-Texas, since 2013—has held 15 hearings on space exploration alone, at least three of which have involved the search for extraterrestrial life. By comparison, Smith's committee has held just two hearings devoted to climate change.
The Democrat-controlled Senate doesn't have a much better record. The Senate Environment and Public Works Committee has held three hearings this session on climate change, while the Senate Energy and Natural Resources Committee has not had a hearing devoted to the topic since 2012. The Senate Commerce Science and Space Subcommittee has had one hearing about climate change and four about space.
On the House side, the House Energy and Commerce Committee hosted one solitary hearing about climate change, and the House Natural Resources Committee has not had a hearing on climate change in the 113th Congress.
In a House Science Committee hearing Wednesday, Seth Shostak, an American astronomer, defended the notion that the search for alien life is worthwhile. He pointed out that NASA's Kepler mission has found there are trillion of planets in our galaxy, including many planets that could hypothetically support life.
"It's very easy to make fun of this," Shostak said. "On the other hand, it would have been very easy to make fun of Ferdinand Magellan's idea to sail around the earth, or Captain Cook to map the South Pacific."
And make fun of it the committee members did. Rep. Bill Johnson, R-Ohio, joked that extraterrestrial societies may be actively avoiding contact with earthlings. "Maybe they've got their caller ID turned on or something," Johnson said.
Rep. Chris Collins, R-New York, joined the fun. "I'm going to ask what everyone in the room wants to ask. Have you watched Ancient Aliens, and what do you think of that series?" he asked. "I think I've been on that program," Shostak replied.
But committee Chairman Lamar Smith took the issue very seriously, pressing the panelists on how likely it is that there's intelligent life on other planets. He was pleased with their response: nearly 100 percent.
While Smith may support the search for extraterrestrial life, he's much less sympathetic about the cause of climate change on this planet. Last year, Smith wrote a column in The Washington Post casting doubt on the idea that global warming is caused by human energy use.
"Climate change is an issue that needs to be discussed thoughtfully and objectively," Smith wrote. "Contrary to the claims of those who want to strictly regulate carbon dioxide emissions and increase the cost of energy for all Americans, there is a great amount of uncertainty associated with climate science."
But, judging by the actions of the committee Smith chairs, a reasoned debate about Earth's atmosphere isn't nearly as appealing as speculating on the atmospheres of other planets.
You could argue that it makes sense for the House Science Committee to rigorously discuss outer space—after all, it's right there in the committee's name. But you could also argue that when the committee you chair has the word "science" in its name, you may want to discuss the premier scientific debate that's going on.
The House Science Committee has discussed climate change in relation to other projects, such as theKeystone XL pipeline. But its main focus, along with other House committees dealing with energy and the environment, has been to reprimand the Environmental Protection Agency for its regulations.
At Wednesday's hearing, Dan Werthimer of the Search for Extraterrestrial Intelligence Institute, or SETI, made the point that a search for intelligent life could prove futile. "If we discover that we are alone, we'd better take really good care of life on this planet," he told the committee.
The truth may be out there, but so are some uncomfortable truths we'll eventually have to deal with, right here.