HealthCare.gov Still Glitchy for Medicaid Enrollees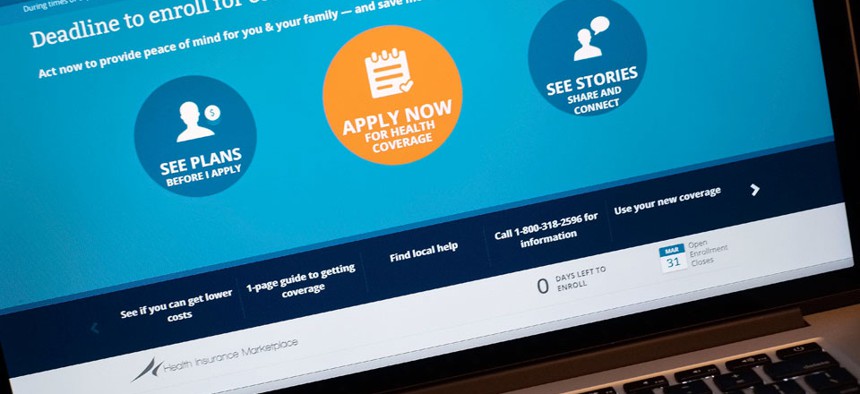 The technology behind a huge part of Obamacare's efforts to expand insurance coverage—the part aimed at low-income Americans—remains far from fixed, and the glitches are keeping some of the nation's most vulnerable patients from getting insured.
The administration launched a "tech surge" to improve the HealthCare.gov experience for those shopping for private insurance, but the website's process for enrolling in Medicaid remained mired in glitches. And for President Obama's efforts to expand health coverage that's a major problem.
To reach would-be Medicaid recipients, the Affordable Care Act relies on potential enrollees being able to effectively navigate the law's website to enroll. And there, just as with the early days of HealthCare.gov, technical failures have created a high hurdle for those looking to join the ranks of the newly insured.
Some applications sent from the exchanges never make it to the state Medicaid offices. Of those that do, jumbled or missing data can make the applications impossible to process in any kind of automated way. In the meantime, these individuals are without coverage as they wait for their applications to be reviewed, and their prospects for getting insured soon are dimming as backlogs build.
And then there's the extreme example, where some applicants—typically those whose incomes put them on the cusp of Medicaid eligibility—have been trapped in a circular purgatory. Consumers are incorrectly deemed eligible for Medicaid by the exchanges, then rejected by the Medicaid offices. Their applications then need to be sent back over to the marketplaces, but they don't always make it there.
The size of the problem is difficult to pinpoint, as experiences vary by state and information is largely anecdotal. But backlogs of Medicaid applications stretching to the hundreds of thousands have been reported in states including Texas, Illinois, California, and New Jersey.
All of this is the opposite of what the White House intended: The federal and state exchange websites were meant to serve as a one-stop shop for insurance, where consumers could immediately find out whether they were eligible for subsidized private coverage or Medicaid. The law's Medicaid efforts are aimed at closing a gap in the social safety net that left out people with incomes that were high enough to miss their home state's Medicaid qualifications but not high enough to afford insurance.
And through the law, the hope was that if people were eligible for Medicaid, the site would forward their application to their state's Medicaid office and they would be enrolled right away.
But from day one, that wasn't the reality for many Medicaid enrollees.
"Right out of the gate, we knew the transfer wasn't ready and wasn't happening," says Matt Salo, executive director of the National Association of Medicaid Directors. "Everyone was hopeful it would get fixed quickly; it turns out some of the problems with HealthCare.gov connecting to Medicaid were bigger than anticipated."
But while the administration went all-in to fix the high-profile problems with the enrollment process for private insurance, work on Medicaid has moved more slowly.
"Medicaid is always the forgotten stepchild," Salo says. "[The marketplace] has open enrollment coming to an end; people eligible for the exchanges will have penalties [if they don't enroll]; there are legitimate concerns from a social insurance model if we don't get enough people—and enough relatively healthy people—signed up. None of that really matters to Medicaid."
The program's year-round enrollment and retroactive coverage meant less pressure to fix the Medicaid problems immediately.
But the need for coverage has still been there, despite the inability to handle the demand. The administration reported last week that Medicaid enrollment has jumped by 3 million since October, largely as a result of the health care law.
From the beginning, differences in technical capabilities left the state and federal systems out of sync, so applications could not be transferred successfully. The IT problems spiraled more out of control with the volume of applications and limited resources to process them by hand. States were not prepared for the influx of applications, and it turns out preparation for Medicaid staff was also sidelined, even before enrollment began.
"There was so much energy in advance of open enrollment to make sure navigators and exchange staff were fully trained—but not as much on the training of Medicaid agencies. Even in states that didn't expand Medicaid, they still had to change the way they did eligibility, which could cause some confusion," says an enrollment expert from a progressive organization who asked not to be named.
States have since increased staffing, but resources are still limited and manual enrollment is slow, so application backlogs have continued to grow.
With those setbacks long beyond its control, however, the administration is now tasked with making Medicaid work as well as possible, now that open enrollment for private insurance has (mostly) ended.
The Centers for Medicare and Medicaid Services is still testing the systems as applications continue to be transferred. "As part of our distribution process to states, we are working with them to share files in waves in order to help them manage volume and handle processing," a spokesman wrote in an email.
Since the launch in October, CMS has been providing all states with weekly summaries of the people whose applications the Medicaid offices should be receiving. Beginning in November, states had the option to simply take the federal agency's determinations of eligibility and enroll those residents immediately, as a temporary emergency work-around. Only five states are currently using that option.
But no quick fix has made itself apparent, and advocates and applicants alike are worried about when relief will come. The race is on to find solutions before the next open-enrollment period begins in just a matter of months and attention is again pulled elsewhere.
In the meantime, states may opt to use the summary reports to confirm they have received all applications. In states that don't, however, there is no way of knowing if an application didn't make it, and individuals may be stuck waiting for an answer that isn't coming.
People who have not received confirmation or been given an insurance card are likely to forgo care or rely on clinics and the emergency room in the meantime. If they do seek any private care while in limbo, those who are ultimately determined Medicaid eligible will receive retroactive compensation. But those who end up being determined ineligible and sent back to the exchanges could end up stuck with high medical bills they may have expected to get covered.
With some states reporting backlogs nearing a million, it could be a long while before they're insured, or even hear back at all.
As these issues continue to be worked through, government officials and enrollment groups are encouraging Medicaid-eligible individuals to enroll directly with their state agencies.