Feds Are Sharing Less Weapons of Mass Destruction Info With Lawmakers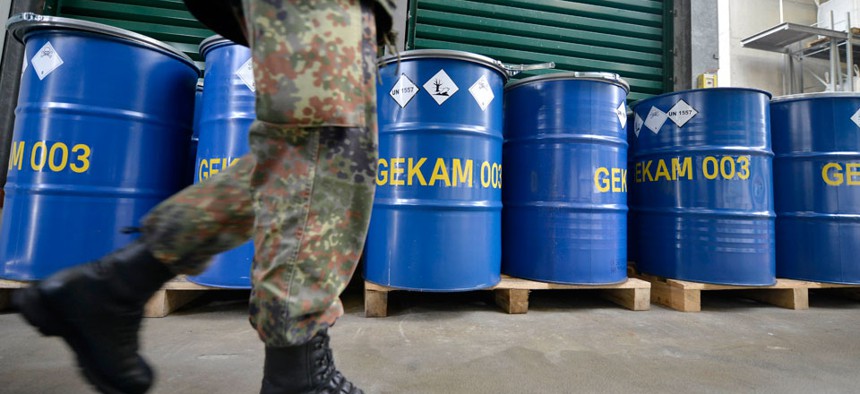 The U.S. government lately is sharing less information with Congress about weapons-of-mass-destruction proliferation concerns, a new Capitol Hill study finds.
"The number of unclassified reports to Congress on WMD-related issues has decreased considerably in recent years," concludes an April 16 report by the Congressional Research Service, the internal research arm of the legislative branch.
Congress requires that the government report on the nuclear and missile programs of Iran, North Korea and Syria. Members of select House and Senate panels -- such as the intelligence and armed-services committees, as well as the appropriations subpanels on defense -- have access to some classified findings on weapons of mass destruction-related topics.
Lawmakers not on those panels can request closed-door briefings from administration officials on specific concerns, according to Steven Aftergood, who directs the Federation of American Scientists' Project on Government Secrecy.
But Congress actually has moved to reduce reporting requirements on unconventional weapon concerns, according to the CRS report. Under the fiscal 2013 Intelligence Authorization Act, a mandate for the intelligence community to provide a yearly unclassified report on the "Acquisition of Technology Relating to Weapons of Mass Destruction and Advanced Conventional Munitions" was lifted.
The report did not offer specifics on the number of classified and unclassified reports and briefings given to Congress over the years.
"There is an annual threat briefing from the [director of National Intelligence] before the House and Senate intelligence committees, but if you look for other open hearings on the subject, they're not there," Aftergood said. "There used to be more."
The longtime transparency advocate said that in the past, there were also more "questions for the record" -- written inquiries by lawmakers that drew officials' responses -- viewable by the public.
"Those also seem to have vanished," Aftergood said. "So there is just less out there and the public has less information at its disposal."
John Isaacs, executive director of the Center for Arms Control and Nonproliferation, said lawmakers' access to official assessments on WMD matters could help them make informed decisions in votes on proliferation-related issues, such as sanctions bills, military- and intelligence-spending proposals, and annual defense-authorization legislation.
Still, Isaacs said providing lawmakers with more information would offer no guarantee they would make reasoned voting decisions.
"Congress should get more facts [about weapons of mass destruction], but that wouldn't necessarily say much," he said. "Members of Congress with or without complete information ... tend to vote on ideology and not facts."
For Aftergood, the issue is also a matter of public awareness about proliferation, an issue he says has "a reduced profile" due to the decrease in unclassified reports and hearings.
The CRS report suggests that Congress "consider requiring additional reporting from the executive branch on WMD proliferation."
"Congress has it in its power to change the situation," Aftergood said. "They can say, as they did in the past, we want an unclassified [hearing and report]. It's a decision that's in their hands."