DHS Wants to Recycle Its Own Computers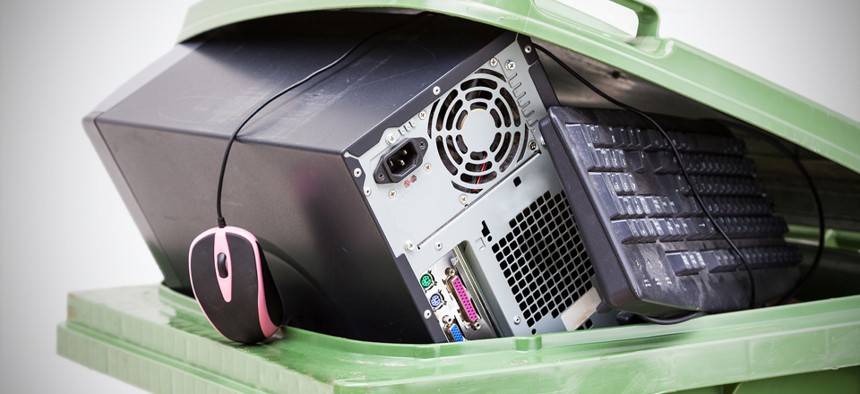 The Homeland Security Department is considering creating its own DHS-wide computer hardware recycling program, according to department officials. That way, Homeland Security can pocket more proceeds than using the current General Services Administration-run salvaging service, IT consultants say.
The office of the DHS chief information officer "would like to establish an Asset Buy Back Program to recycle scrap/salvage IT equipment, i.e. desktops, laptops, printers, etc. at DHS headquarters," a federal contracting notice states. GSA's service, which is offered to all agencies, is called GSAXcess.
Under the plan, Homeland Security's IT shop would receive "credits" that then would go toward replacing hardware through a separate GSA Exchange/Sale program. 
DHS on Tuesday afternoon announced a May 1 industry meeting intended to help the department decide whether to proceed with its own recycling service. 
The CIO's office "spends millions of dollars for IT equipment/hardware in support of the DHS IT infrastructure," DHS officials said. The purpose of this meeting "is to determine the feasibility of implementing an asset Buy Back Program at DHS Headquarters for equipment designated as scrap products."
Homeland Security spent $5.8 billion on IT investments in fiscal 2014, according to White House statistics. 
Officials said DHS follows procedures outlined by GSA to dispose of excess property, and also must comply with rules for recycling excess IT in an environmentally sustainable fashion.
The notice does not go into details about the benefits of a dedicated DHS buy-back program, but Warren Suss, who has advised agencies and contractors on IT strategies for 24 years, said that if they can "recapture the money from the scrapping of assets from within an agency, then those revenues will hit the agency's budget." 
At an agency as big as Homeland Security, finding ways to cash in on excess IT hardware frees up funding to use on other items, he added. 
The Defense Department, for example, has its own disposition program, Suss noted.
"Sometimes when you move between departments, it's hard to obtain the bottom line benefits," he said. "Any way an agency can find opportunities to reduce budget pressures, they'll do it." 
(Image via Photographee.eu/Shutterstock.com)