DHS Wants More Virtual Fence Funding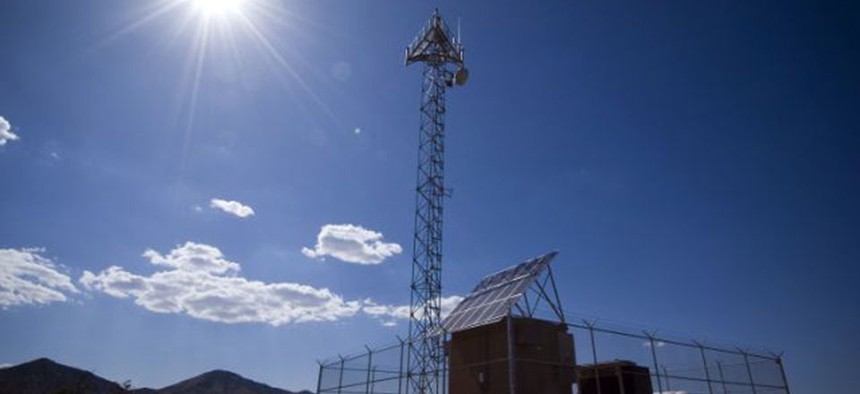 Spending on border control equipment and surveillance would rise by $11 million, under President Obama's 2015 budget request, with the administration set to break ground on up to 50 surveillance towers in Arizona. 
Customs and Border Protection on Feb. 26 signed contractor EFW, Inc. on to the project, which could cost as much as $145 million.  The plan is to stand up a series of stationery towers and command and control center technology that can discern suspicious activity along the Arizona-Mexico border.  
With existing funds from the Homeland Security Department's Border Security Fencing Infrastructure and Technology account, CBP expected to initially purchase about 25 towers, officials said last fall.
On Tuesday, a DHS official told Nextgov the agency will erect seven towers, with the option to buy more after the initial deployment, for a total of up to roughly 50 towers.
In the budget released earlier in the day, Obama asks that lawmakers increase the size of the $351 million account to $362 million. 
Congress has blocked the administration from using any new money for more tower technology until the agency certifies that the first installation "meets the operational requirements" of the Border Patrol. Obama's budget references this restriction, which was included in a fiscal 2014 spending bill.
The contract inked last month lasts eight and a half years, or until 2022. 
An earlier shot at erecting a virtual fence lost steam, when technologies that were available at the time could not satisfy what DHS officials now admit were arbitrary prerequisites. Those specifications included ubiquitous radars, even in densely populated areas, and detection of 70 percent of incursions within a given coverage area. In 2011, Homeland Security abandoned the Secure Border Initiative network, or SBINet, after investing $1 billion. 
Functioning SBInet towers in Tucson and Ajo still exist.
On Monday, after a snowstorm shut down federal offices, the House Homeland Security Committee postponed a hearing on the Arizona technology plan scheduled for Tuesday. 
Rep. Candice Miller, R-Mich., chairman of the Homeland Security Border and Maritime Security Subcommittee, said in a statement on Feb. 28, that SBINet "was plagued with procurement and technological problems." CBP and Government Accountability Office officials were slated to testify at the hearing.
"I am interested in hearing about the lessons learned from previous failures and how, going forward, we can ensure taxpayer dollars provide tangible, measurable results when it comes to securing our border," Miller said. 
This story has been updated with comment.
Get the Nextgov iPhone app to keep up with government technology news.