Boehner Supports End to NSA Mass Surveillance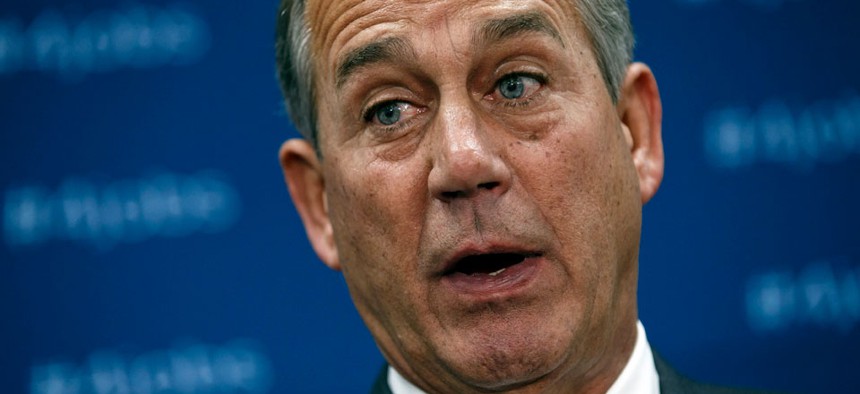 House Speaker John Boehner indicated Wednesday that he plans to allow a vote on legislation that would end the National Security Agency's controversial practice of collecting records on millions of U.S. phone calls.
"The bill represents the start of a bipartisan conversation about how we maintain our capabilities to thwart attacks, while addressing privacy and civil-liberties concerns that many Americans have," Boehner said at a press conference. "And so I expect that part of this effort will include the end of the government holding on to bulk data. And, ultimately, I'm hopeful that bipartisan cooperation will lead to results that all sides can support--and, most importantly, keep America safe."
Beohner is supporting a bill introduced Wednesday by Reps. Mike Rogers, the chairman of the House Intelligence Committee, and Dutch Ruppersberger, the panel's top Democrat. The lawmakers are fierce defenders of the NSA, and their bill now represents the more moderate legislative approach for reforming the NSA.
Under their legislation, the vast database of phone records would stay in the hands of the phone companies. The NSA could force the phone companies to turn over particular records, and the Foreign Intelligence Surveillance Court would review the NSA orders after the fact.
The legislation is expected to be similar to a proposal that President Obama will outline later this week. 
Senate Judiciary Committee Chairman Patrick Leahy and Rep. Jim Sensenbrenner are still pushing a more aggressive bill to rein in the NSA's power. Their bill, the USA Freedom Act, would raise the standard that the NSA would need to meet to access the phone data and curb other programs, such as Internet surveillance of people in other countries.
Boehner appeared to be skeptical of any proposals that would be more aggressive in expanding privacy rights than the Rogers-Ruppersberger legislation.
"As you know, I've long said these programs exist to save American lives--and they have. And while there are some valid privacy concerns, it would be irresponsible to end these programs before we have a credible alternative," Boehner said.
The NSA maintains that the bulk phone data collection is authorized under Section 215 of the Patriot Act. If Congress doesn't act before June 1, 2015, that provision will expire, and the program will have to end entirely.