Sham 'My Army Benefits' Site May Have Stolen Soldiers' Credentials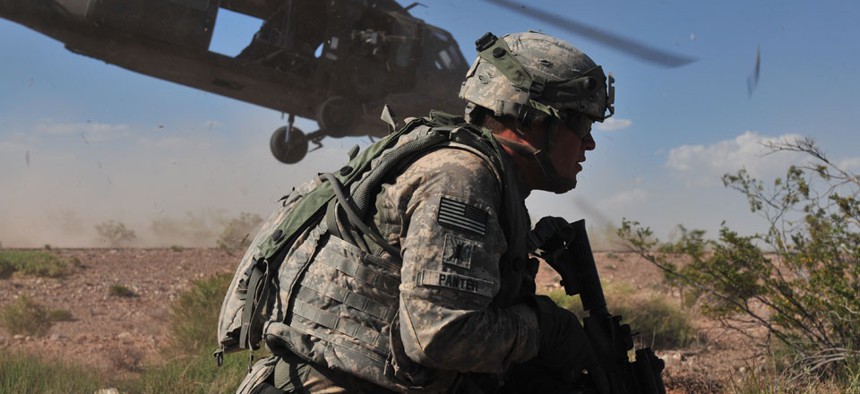 This story has been updated.
Military investigators are alerting members of the Army about an unofficial benefits site that purports to offer users unclaimed benefits and then bags their credentials.
The "primary purpose" of the fake My Army Benefits site, according to officials, is to "collect soldiers' Army Knowledge Online email accounts and passwords," the Army news service said. AKO Online is a secure gateway for soldiers, civilians, retirees and family members to access a variety of information resources. 
The sham site is easily mistaken for myarmybenefits.us.army.mil, a real site hosted by the Army.
The sham site, earlier located at www[dot]usmilitarybenifit[dot]org, was showing an error message as of 8:00 p.m. on Friday and appears to have been taken down.
Scammers apparently were luring soldiers and family members to the site with "phishing" emails. A warning circulated on Friday does not say whether the campaign was targeted solely at military members and, if so, how the bad guys obtained military members' email addresses.  
Officials at the Army Criminal Investigation Command, or CID, said they "recommend deleting suspicious or unsolicited emails immediately, without response," presumably so that the perpetrators cannot confirm the identities of the recipients.
The fake site, according to officials, informed visitors the military is offering unclaimed and accumulated benefits for active duty soldiers, and that benefits not claimed within the stipulated period become available for claims after 60 months.
CID officials said they "strongly recommend that soldiers, Army civilians, retirees and family members avoid the website" and ignore all assertions posted there.  
CID warned of a similar threat last fall, after developers released potentially-malicious apps for the supposed purpose of accessing Defense Finance Accounting Services on mobile devices. The unsanctioned tools, authorities said, could compromise personal account data and be used to steal funds. 
Between 10,000 and 50,000 individuals downloaded one such third-party app, "MyPay DFAS LES," from the Google Play Android app store, according to the search giant's estimates. 
CID is advising anyone who has received correspondence from the My Army Benefits website to take the following precautions: 
Do not log in to the website.
Do not respond to any emails from it.
Stop all contact if you have previously responded to any emails.
Immediately contact your local information assurance office if you accessed the website from a government computer or system.