Tech's Gender and Race Gap Starts in High School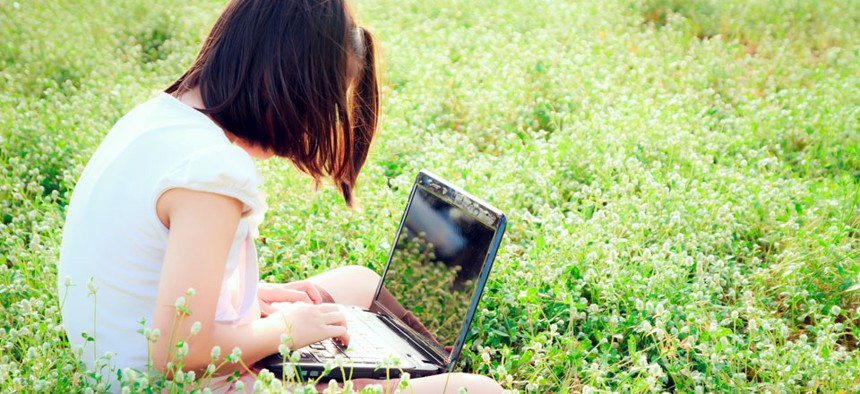 When people talk about how to diversify the tech field, a common solution is, "Start earlier." Rather than focus on getting women and minorities hired at tech startups or encouraging them to major in computer science in college, there should be a push to turn them on to the discipline when they're still teenagers—or even younger.
"It's already too late," Paul Graham, founder of the tech entrepreneur boot camp Y Combinator, said last month in a controversial interview. "What we should be doing is somehow changing the middle school computer science curriculum or something like that."
Right now, the "start early" strategy doesn't seem to be working: The students doing advanced computer science work in high school remain overwhelmingly white and male. According to data from the College Board compiled by Georgia Tech's Barbara Ericson, only a small percentage of the high-schoolers taking the Advanced Placement Computer Science exam are women. Black and Latino students make up an even lower percentage of the test-takers.
Ericson's analysis of the data shows that in 2013, 18 percent of the students who took the exam were women. Eight percent were Hispanic, and four percent were African-American. In contrast, Latinos make up 22 percent of the school-age population in the U.S.; African-Americans make up 14 percent. (I don't need to tell you that women make up about half.)
There are some states where not a single member of one of these groups took the test last year. No women in Mississippi or Montana took it. Seven states had no Hispanic students take the exam: Alaska, Idaho, Kansas, Mississippi, Montana, Nebraska, and North Dakota. And 10 states had no Black students take the exam: Alaska, Idaho, Kansas, Maine, Mississippi, Montana, Nebraska, New Mexico, North Dakota, and Utah. In some of these states, there simply aren't many students of any race or gender taking the test, which helps explain the dearth of young women and minorities. (Indeed, no women or minorities took the exam in Wyoming—but that's because no students at all took it.) But Idaho had nearly 50 students taking it, and Utah had more than 100.
In California, home of Silicon Valley, a slightly higher-than-average percentage of the test-takers were women: 22 percent. But the percentage of African-American students taking the exam was far lower: just one and a half percent. (The percentage of Hispanic students taking the test in California was about the same as the national average, at eight percent.)
"We were not surprised by Barbara Ericson's findings because unfortunately, computing courses have historically been dominated by white, male students," Deborah Davis, spokeswoman for the College Board, wrote in an email to EdWeek. 
Fortunately, Ericson doesn't just highlight the gender and race gap in high-school computer science—she's also working to fix it. As Director of Outreach for Georgia Tech's Institute for Computing Education, she helps develop programs to increase the number and quality of computer science teachers, and to boost the diversity of computer science students. She and her colleagues just finished a six-year grant trying new strategies in Georgia and Massachusetts and are about to start a new grant taking what they learned to California, South Carolina, Indiana, Alabama, and Puerto Rico.
One way to increase the number of high-school computer science students in general is to allow those classes to count toward state graduation requirements in either math or science. About 16 or 17 states currently do this, and more states are considering doing so in the future.
In Georgia and Massachusetts, Ericson and her colleagues created computer-science summer camps for elementary-, middle-, and high-school students. "The idea is to get them interested before they hit college," Ericson said.
The students at these camps were about 40 percent underrepresented minorities, according to Ericson. But they still had fewer girls than she wanted. "There's a higher obstacle to overcome in the perception of computer science for girls," she said. 
So Ericson and her colleagues partnered with the Girl Scouts and other female-oriented groups to spread the word about computer science. She said that emphasizing the way programming can be used to help people is an effective way to turn girls onto the subject. "Girls have been socialized into believing they need to be helpers," she said. So her message to girls is "Hey, you can create apps to use in emergencies to help people. You can do all sorts of cool things. Computer science has wonderful potential to help people."
(Image via Isara Kaenla/Shutterstock.com)