Border Drone Drops from the Sky As Immigration Takes Center Stage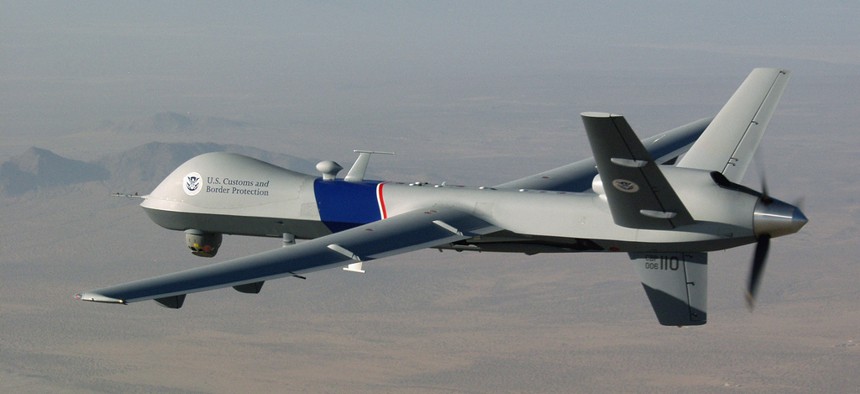 While President Obama was preparing Tuesday to call for an overhaul of the immigration system a border surveillance drone went down off the California coast. The incident comes at a time when Customs and Border Protection officials are striving to improve operations and maintenance of domestic remotely-piloted aircraft.
CBP officials ultimately grounded the agency's fleet of 10 unmanned aerial systems, out of caution, after one vehicle "experienced a mechanical failure," CBP spokesman Michael Friel said in a statement. 
The crew put down the drone in the Pacific Ocean 20 miles southwest of San Diego, after determining there was no way to return the aircraft to its launch point in Sierra Vista, Ariz. 
No injuries were reported as a result of the emergency landing. 
CBP officials on Tuesday night said the malfunction involved the drone's primary generator but investigators have not yet determined the cause of the outage.
Immigration reforms proposed in the House and the Senate both urge the government to consider adding more drones along America's borders. In written remarks prepared for his State of the Union Address on Tuesday night, Obama said, "If we are serious about economic growth, it is time to heed the call of business leaders, labor leaders, faith leaders and law enforcement, and fix our broken immigration system."
Customs and Border Protection has struggled to fly the drones it has on inventory, even as lawmakers continue to invest in additional vehicles and accessories.
In May 2012, a Homeland Security Department inspector general scolded the agency for letting the aircraft sit stationary 63 percent of the time they should have been airborne. CBP's fleet of then seven drones should have flown at least 10,662 hours per year, collectively, according to the IG's calculations. The aircraft flew only 3,909 hours per year total, the report found.
With three additional drones, the fleet put in 5,100 hours during fiscal 2013, CBP officials said on Tuesday.
At the time of the IG report, CBP officials reported that between 2006 and 2011 the agency spent $55.3 million for aircraft operations and maintenance -- expenses such as training, satellite links and facility rental fees -- but never created a dedicated budget for those costs.  
"As a result of CBP's insufficient funding approach, future UAS missions may have to be curtailed," wrote Anne L. Richards, the Homeland Security Department's assistant IG for audits.
Friel told Nextgov on Tuesday, "Each year, we are working toward the number of flight hours that we believe are optimal for the program."
The remotely-piloted aircraft were commissioned, beginning in 2004, to deter undocumented immigrants, smugglers and would-be terrorists. Each drone costs about $18 million. 
CBP is in the process of procuring VADER surveillance systems for mounting on unmanned aircraft, according to agency officials. VADER -- vehicle and dismount exploitation radar -- detects and follows people traveling on foot as well as vehicles moving on land. "We have ordered two VADER and expect to have them in early 2015," Friel said during the interview.
Congress appropriated money for the VADER acquisitions in earlier spending bills.
Currently, the Pentagon is loaning CBP a VADER system for domestic drone missions, but the agency will have to return that system at some point, Fried said. 
Operators on the ground view still, high-contrast, black-and-white "synthetic aperture radar" images, and watch moving targets displayed as dots on a map.