How Will We Know the Obamacare Site Is Fixed?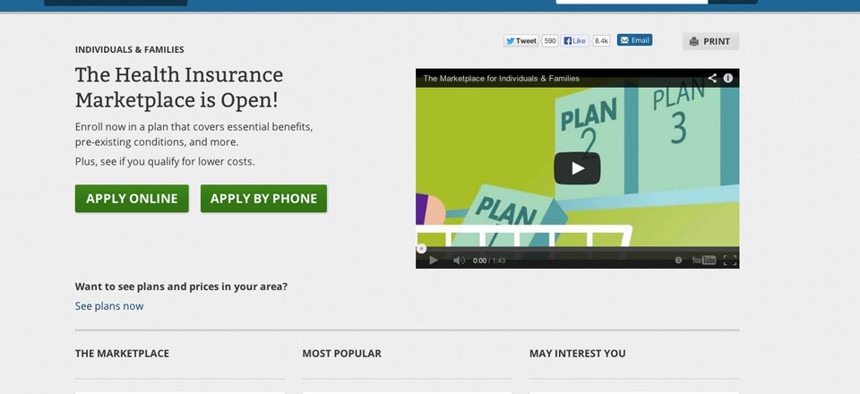 With the administration's deadline to fix the Obamacare website less than a week away, one question is bound to weigh heavily on the debate over the system: How well does it have to operate to be considered "fixed"?
The truth is, the system is getting stronger as it recovers from its disastrous launch, but experts say it still has a long way to go. The problems that continue to plague it could continue the torrent of criticism, making it tougher for the administration to rehabilitate the image of its signature law.
"There won't be a success until the website is working," said Bob Laszewski, a health care consultant who works closely with insurers.
Nov. 30 will mark the administration's self-imposed deadline to have HealthCare.gov working, as well as the end of the second full month of enrollment. And expectations for both of those milestones are modest.
Insurers say they've seen enrollment pick up in November as the administration made gradual improvements to the site, which serves 36 states. HealthCare.gov processed a paltry 25,000 sign-ups in October, but insurers say the process has gained steam over the course of this month.
They are concerned, however, about lingering problems. The site is still sending incorrect or incomplete information to insurance companies about the people who choose a plan, and industry officials are afraid the administration is about to flood them with more bad data than they can manage.
"There's still a lot of work to do to get the back-end processes working," said Robert Zirkelbach, a spokesman for America's Health Insurance Plans.
Jeff Zients, the former White House budget director leading the HealthCare.gov repair effort, said Friday that by Nov. 30, the site will be able to handle 50,000 users at once, the target it was supposed to meet when it launched last month.
Zients has also repeatedly said that issues with the information sent to insurers were at the top of his "punch list" for site repairs. But industry officials say those problems haven't been fully addressed—so the prospect of handling 50,000 people at a time is a scary one.
Bob Laszewski, a health care consultant who works closely with insurers, estimated that the site's back-end error rate is 5 percent. It needs to be lower than 1 percent for the site to be considered fixed, he said.
"They've made some progress on the back end, but it's still not where it needs to be," Laszewski said.
Some health policy experts also question the administration's definition of success for the site's user experience.
Administration officials have said they expect the site will work for about 80 percent of users by Nov. 30. Yet a 20 percent failure rate wouldn't be considered success in most industries, and it also might not be good enough to stem the tide of negative anecdotes about Obamacare enrollment.
"Twenty percent still leaves a lot of noise in the system … that leaves a lot of people with a bad experience," said Caroline Pearson, vice president at the consulting firm Avalere Health.
Jonathan Gruber, a health economist at MIT who helped design the Affordable Care Act, said the problems with an 80 percent success rate could go beyond optics.
If the administration means that 80 percent of people who want to actually enroll will be able to, that's "more than enough," Gruber said—once you've picked a plan, it's not a big deal to have to call the insurance company to sign up. But if only 80 percent of people are able to use the site to shop for coverage, he said, the administration will have a problem.
"I think virtually everyone who needs to shop on the website should be able to," Gruber said.
Because HealthCare.gov has been under repair throughout November, enrollment will likely still lag well behind the pace needed to hit the bottom-line goal of signing up 7 million people by the end of March.
Some state-based insurance exchanges have seen their enrollment numbers surge as they overcame their initial technical problems. California is now signing up 2,700 people per day, up from about 700 in the first week of enrollment. Even before that surge, though, California had enrolled more people than all 36 states that rely on HealthCare.gov.
The administration will release November's enrollment statistics in mid-December. Experts declined to make predictions about the numbers, but insurers generally say they're seeing the pace of enrollment pick up modestly.
To hit the 7 million goal, enrollment will need to make up the ground it lost in October and most of November, a challenge that California's surge suggests is possible—with a functional website.
But because many people—especially the young, healthy consumers so critical to the law's success—are expected to sign up later in the six-month enrollment window, Gruber said, November's figures won't say much about whether the administration is on track.
"I think they're pretty useless until close to March," he said.