How Soon Before Obama's Bodyguards Don Google Glass?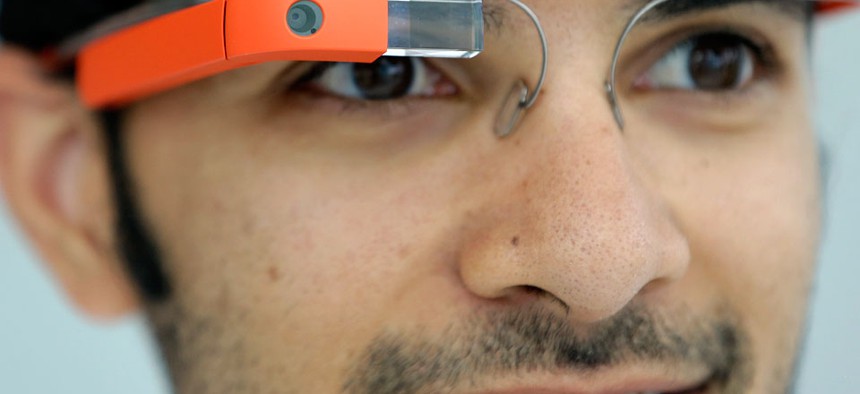 Those sharp shades that Secret Service agents sport might become a whole lot sharper. The agency, along with the Pentagon, is mulling Google Glass-like intelligent eyewear for field assignments, according to federal officials.
Because of data protection considerations, however, don't expect an agent to peer through the commercial frames at a map of President Obama's limo route vis-à-vis gunfire locations right now, software developers say. 
"We are interested in any type of technology that could enhance our mission," Secret Service spokesman Brian Leary said, when asked whether the agency is considering Internet-connected eyewear like Glass. "We have a Technical Security Division dedicated to research and testing of equipment."
Some Secret Service personnel already seem smitten with the gear. A staffer from Thermopylae Sciences + Technology, which makes mapping software for Google's frames and other spectacles, was wearing Glass on the Metro and attracted the attention of a rider intrigued by the accessory. After confirming the eyewear was Glass, the passenger disclosed he was with the Secret Service's presidential protective division and interested in how that type of technology could aid agents. Leary could not confirm the episode occurred but verified that the rider identified by T-Sciences is a Secret Service employee.
This summer, the Army tried out "tactical glasses" made by ODG, a T-Sciences partner. Soldiers at Enterprise Challenge 2013, a technology exhibition at Fort Huachuca, sat inside a demonstration ground station, and looked through the eyewear at live video captured by surveillance drones outside, Army officials said. ODG's product is a pair of viewers that wraps around the user's face, so the person can look straight through the shades, whereas Glass requires the user to gaze up at a single screen attached to the side of the frames. 
"The primary objective is to connect [the Army's] clouds of information to those wearers," said A.J. Clark, a former military intelligence analyst who now is president of T-Sciences. Perhaps "to tap up a blueprint for the interior of an engine on a Humvee if somebody's got to fix it" or for operating out in a tactical environment "and wanting to see things such as -- there's [been] 20 IEDs on this road over the last six months and you may really want to pay attention to this area when you go past it." T-Sciences software was not used in this particular demonstration. 
Separately, the Defense Advanced Research Projects Agency has developed its own holographic headwear  that was scheduled to undergo trials in August, according to the agency's website. The Urban Leader Tactical Response, Awareness and Visualization, or ULTRA-Vis, is essentially a virtual reality system. The glasses layer graphic illustrations on top of what the soldier is observing in the field, DARPA officials say. The lenses track the soldier's position and orientation to provide visuals of troop locations, hazards and other surrounding objects. 
It's unknown whether national security officers will be consulting Glass for dossiers on faces in a crowd anytime soon. First off, Google currently forbids the use of facial recognition on the gadget. And an assortment of world leaders, including more than 30 international privacy officers, in an open letter to Google, and former Homeland Security Department Secretary Michael Chertoff, have voiced fears about ubiquitous spying. 
That said, Mutualink, a software provider used by NATO Special Operations Forces, police and other first responders, recently debuted a Glass app that would allow authorities to "communicate in real-time via streaming video from the scene, as well as to receive and view key documents, including things like building schematics, medical records of victims, live feeds of security cameras in the area and more," TechCrunch reports. Mutualink officials told the publication that the technology emphasizes agency control of media and recording, so privacy should be protected.
The hype surrounding Glass inevitably will trigger discussions among federal officials about how the tool might be applied to government operations, Clark said. 
"Because everybody's reading about Glass in the press, or hearing about it online or seeing a commercial for it, they think about it and then they say, 'We'd like to do this,'" he added. "Glass is really designed for a commercial audience. Some of these other manufacturers that have been pioneering the technology -- specifically for military environments -- they are going to reap some of the benefit because now people are really having the conversation."