Now Fliers Can Keep Their Shoes On -- If They Let Big Brother Inspect Their Big Data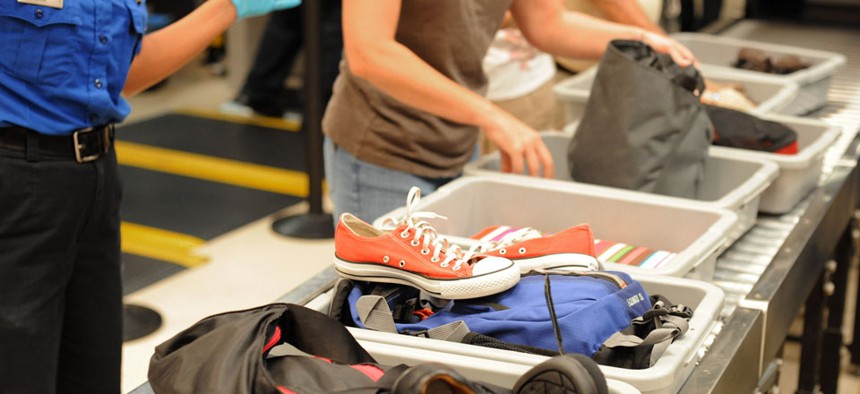 Now all U.S. citizens can apply to speed through airport screening -- if they don't mind contractors potentially mining their social media posts for signs of threatening behavior. 
On Friday, the Transportation Security Administration opened up to the entire American public a voluntary program once reserved for frequent fliers that lets travelers walk, with their shoes and belts on, to express checkpoint lines. Laptops and TSA-size compliant liquids and gels can stay in place too. Body scans are still required. 
"Pre✓" enrollment is expected to cost $85 -- and the loss of privacy. TSA is weighing a contract that would hire private screeners to parse an applicant's consumer data, such Web browsing histories, for signs of danger before admission into express inspection programs.
"TSA Pre✓ is one expedited aviation screening initiative" and the agency is researching "a further expansion of expedited physical screening" to understand how "pre-screening processes conducted by non-governmental entities ('third parties') can enhance aviation security by placing more focus on pre-screening individuals," states a January call for industry demonstrations. 
Agency officials said in April that they aimed to finish evaluating the concept by the end of this year.
Under the plan, a company would aggregate biographic and biometric "non-governmental data elements to generate an assessment of the risk to the aviation transportation system that may be posed by a specific individual," the notice states. The vendor would have to provide a "reliable method that effectively identifies known travelers, based on a sound analysis and the application of an algorithm that produces dependable results."
Currently Pre✓ fast lanes are available at about 40 airports. Interested fliers can apply for the program, starting this fall, by completing an online form and submitting identification and fingerprints in person at Washington Dulles International Airport or Indianapolis International Airport. Additional enrollment sites will be announced in a few months. The fee covers priority screening privileges for five years. 
TSA Administrator John Pistole said in a statement, "TSA Pre✓ enables us to focus on the travelers we know the least about, adding efficiency and effectiveness to the screening process."