Congressional Picks for DHS Head Include Backers of Mass Surveillance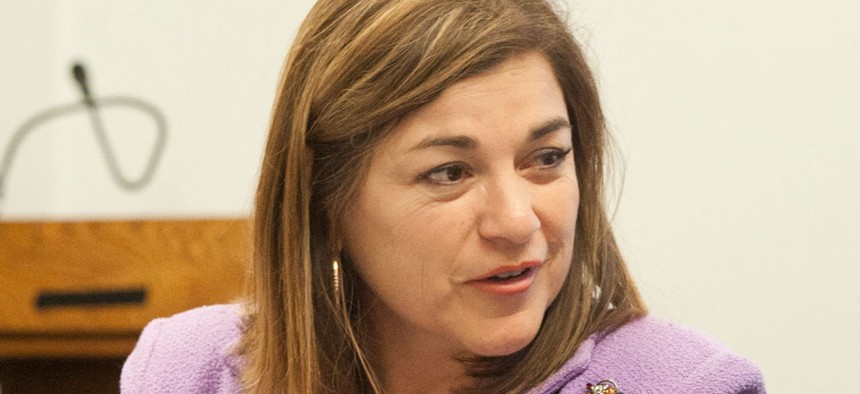 To fill the top job running the Homeland Security Department after Secretary Janet Napolitano steps down, lawmakers on the House Homeland Security Committee are suggesting individuals who have supported programs similar to National Security Agency digital surveillance initiatives. Napolitano is leaving DHS in September to lead the University of California.
Among the people ranking Democrat Rep. Bennie Thompson, D-Tenn., would prefer, according to minority committee aides, is Rep. Loretta Sanchez, D-Calif., a committee member who supported the divisive Cyber Intelligence Sharing and Protection Act, known as CISPA. The measure, which the House approved by a 288-127 vote in April, would allow the intelligence community to monitor the metadata of private emails for threat signatures or indicators of malicious software.  
NSA is facing global criticism for tapping foreigners' Web communications and Americans' incidentally-collected Internet correspondence, as well as the phone metadata of millions of U.S. citizens.
Sanchez successfully introduced a CISPA amendment aimed at blunting the power of intelligence officials to evade civil liberties oversight by assigning DHS officials to report to Congress on the legislation's impact.  
Thompson sent President Obama a letter on Monday asking that he select someone with "a demonstrated record of respecting privacy and civil rights." 
Committee Chairman and Texas Republican Michael McCaul has recommended, among others, New York City Police Commissioner Raymond Kelly, a long-time proponent of collecting and analyzing large amounts of data to detect crime trends and an advocate of using video cameras to monitor urban streets. 
While a fan of data analytics, Kelly reportedly criticized NSA for keeping its mass data collections secret. The programs were revealed only after ex-NSA contractor Edward Snowden leaked documents detailing surveillance operations to the media. Kelly also has said NSA must protect its data better. 
Following the Boston Marathon explosions, he dismissed critics who argued that installing urban cameras threatens privacy by granting governments the ability to track citizens in public spaces, the WNYC News reported. The technology helped authorities identify the Boston bombers.
Kelly also champions CompStat, short for computerized or comparative statistics, an initiative that maps crime patterns to increase accountability across police forces. The crime-reporting program started in New York City during the mid-1990s and has been replicated by many major cities. 
Republican aides on Monday said McCaul also has mentioned Retired Coast Guard Commandant Adm. Thad Allen as a good choice to replace Napolitano. Obama tapped Allen in 2010 to coordinate the federal response to the BP oil spill. During the crisis, a joint information center tracked Tweets and other social media around-the-clock to quash rumors and identify concerns in the Gulf region.
Another Thompson pick is Massachusetts Governor Deval Patrick, who then-President Clinton in 1994 appointed assistant attorney general for civil rights. Patrick defended federal information sharing practices in the aftermath of the Boston bombings, according to WGBH News. FBI agents did not tell Boston police about warnings from Russia's government involving suspect Tamerlan Tsarnaev, but Patrick said alerting the police would not have been enough to stop the attacks. Republican lawmakers, including McCaul, have questioned the disconnect in communication.
Rounding out Thompson's list are committee member Rep. Sheila Jackson Lee, D-Texas, and Erroll Southers, who in 2010 withdrew his name from consideration for Transportation Security Administration director after growing disenchanted with Senate politics.