A Week After it was Mysteriously Disabled, U.S. Forces-Korea Website Returns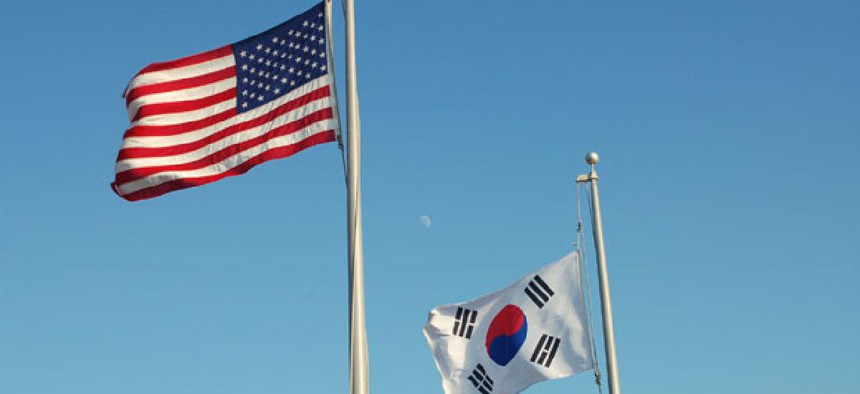 The Pentagon early Monday restored the U.S. Forces-Korea website, following a nearly weeklong outage.  
Officials declined to say who or what prompted what they described as "a hardware failure" that crashed www.usfk.mil early last Tuesday morning. Nor would they comment on whether any data has been compromised. "We appreciate the hard work of the communication specialists who brought the site back online and restored most of the content," U.S. Forces-Korea spokeswoman Col. Amy E. Hannah said. 
The main purpose of the site is to inform the public about the command's activities. "There was no support of military operations on the website server," Hannah said.
When asked about the possibility that outside actors intentionally knocked down the site, she said, "The loss of the site was the result of a hardware failure" and would not elaborate further. 
North Korean and South Korean allies started engaging in website rattling, following Pyongyang's third nuclear test in February.
Information security experts questioned why the site remained down for nearly seven days. George Smith, senior fellow with the think tank GlobalSecurity.org, said the length of the disruption could reflect a lack of resources or little consideration for the site, in general. He noted U.S. Forces-Korea's Facebook page displays a photograph of a waterfall on an island where troops will be vacationing. Also, the command's Twitter feed is outdated. "They don't appear to care much about social media messaging. Maybe they don't care about their website, either, really," Smith said. 
On the other hand, the Pentagon could have been taking time to investigate what went wrong, he said. "The last possibility is [a North Korean] cyberattack, which would be unsurprising, all things considered, but still childish," Smith said.
Richard Bejtlich, chief security officer at computer forensics firm Mandiant, said, "A one-week outage is very unusual. In the private sector we would have restored a server like this in a matter of days, at the most."
The disruption could indicate "very broken IT processes, such as a lack of backups," he said. Mandiant recently released a landmark study linking the Chinese military to unauthorized surveillance of more than 100 companies in mainly English-speaking countries. Bejtlich said he could not speculate on whether North Koreans or other hackers instigated USFK.mil's problems.
A tit-for-tat between North Korean and South Korean hacktivists intensified last week. The penetration of Uriminzokkiri, the North Korean regime's official news site, "marked the first time in the current round of attacks that anyone had managed to break in and deface a North Korean website," reports the blog North Korea Tech.
Intruders breached the site's Twitter and Flickr accounts. And a companion site displayed a poster of North Korean leader Kim Jong Un drawn as a pig garbed in Disney paraphernalia.