Satellite Images Indicate North Korea Continuing Push for Nuke Test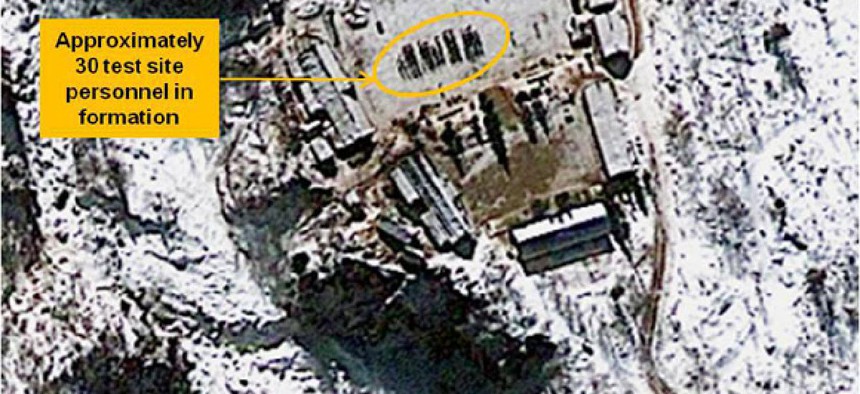 Recent surveillance satellite images suggest North Korea has pressed forward with preparations for another underground detonation at its nuclear testing site, the expert website 38 North said in analyses this week.
"Analysis of new satellite imagery from Jan. 23, 2013 and previous images dating back a month reveal that the site appears to be at a continued state of readiness that would allow the North to move forward with a test in a few weeks or less once the leadership in Pyongyang gives the order," according to a report posted on Friday.
The powerful North Korean National Defense Commission on Thursday warned of a "high-level nuclear test we will carry out" that would be aimed at the United States. The aspiring nuclear power was responding to the U.N. Security Council's rebuke one day earlier of the nation's December launch of a long-range rocket.
Fallen snow has been removed from the area around the test tunnel at the Punggye-ri site, indicating it is being kept ready for operations, issue analyst Jack Liu wrote. A mound of material seen in a Dec. 24 picture could be intended for sealing the tunnel ahead of the test blast, he added. That pile appears to be smaller as of Wednesday.
"If this material is intended for stemming, one possible explanation is that operations have begun to seal the test tunnel," the analysis says.
An examination of satellite pictures of the site also shows a number of facilities and structures have been erected or excavated in advance of another test, according to a 38 North analysisissued on Thursday. One facility is expected to house the command-and-control consoles that would be used to activate and oversee the nuclear blast.
The bunker is roughly 150 meters from the opening of the tunnel in which the device would be detonated. Images collected in November and December indicate instruments have been installed nearby for collecting air samples and data on radiation. Walking routes to other instrument locations are seen in pictures from last month.
A covered structure put up last month not far from the testing tunnel is thought by to have been built to provide shelter to delicate machinery intended to collect data from the blast.
The North's previous nuclear tests in 2006 and 2009 are judged to have been only partially successful at best.
North Korea is likely to focus its third test on acquiring the capability to make nuclear warheads small enough to be fixed to missiles, according to analysts. The next test could also for the first time be powered by highly enriched uranium rather than the plutonium used in the earlier events.
A South Korean government insider told the Daily NK that "North Korea has filled in a tunnel dug for the purpose of a nuclear test with dirt and concrete brought in from elsewhere. It has also been confirmed that a cable has been run out from the tunnel."
North Korea's principal ally China has joined the United States and other regional nations in warning the North against such a provocation.
For another detonation to take place, the atomic device and its trigger would have to be taken from their holding area and joined together in the underground chamber excavated for the trial. Depending on where the components are located, the step could take one to seven days, according to Liu, writing for 38 North.
Simultaneously, technical workers at Punggye-ri would be making sure all of the testing equipment is properly working and configured to gather as much possible data from the atomic blast, Liu wrote.
Personnel would likely be making certain command-and-control equipment is working so that communications from the Punggye-ri control compound to the detonation chamber and to leadership in Pyongyang can be smoothly transmitted, according to 38 North, which is operated by the U.S.-Korea Institute at Johns Hopkins University.
"After preparations are successfully completed, the site commander communicates to Pyongyang that he is ready. Sometime after, the capitol transmits an order view secure communications channels to the commander to be prepared to conduct the test on a specified day," Liu stated.
"Weather conditions may affect a final decision to go forward with a test. For example, prevailing winds, whether they are blowing towards or away from populated areas, could be an important consideration," Liu wrote.
Once the blast order has been received from Pyongyang, a countdown would likely begin at the control compound at Punggye-ri and a final readiness check would take place. Assuming everything is found in working order, the actual detonation could be accomplished by turning one or two keys in the control console that would send a blast directive to the nuclear device trigger.