Napolitano suggests DHS will never meet cargo scanning mandate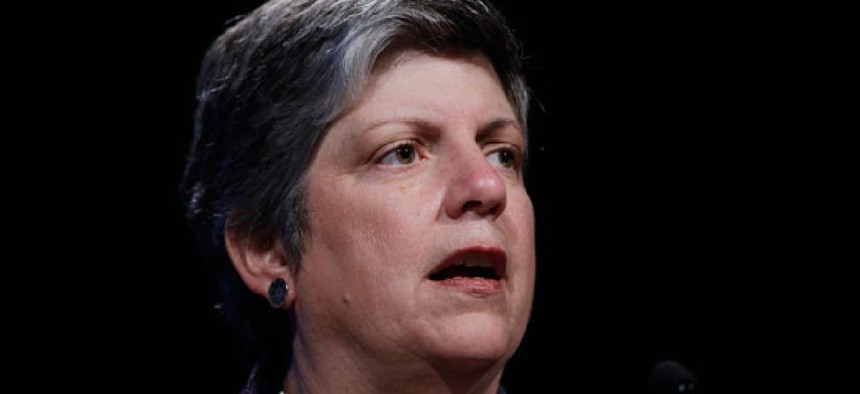 Homeland Security Secretary Janet Napolitano on Thursday suggested that her department does not plan on meeting a congressional requirement that all foreign cargo shipped to the United States be scanned for dangerous materials that could be used in a terrorism attack.
Congress in 2007 approved a law that requires all ship cargo bound for the United States be screened for weapon-usable nuclear and radioactive materials and other dangerous substances before the vessels sails away from foreign seaports. After missing an initial deadline last July to come into compliance with the law, the Homeland Security Department now has until July 2014 to meet the mandate. 
"I actually looked into this issue very thoroughly," Napolitano said during a Wilson Center event here.
Last spring, Napolitano told lawmakers it would cost $16 billion to deploy screening technology at all of the approximately 700 international seaports that send cargo to the United States. 
"It's one of those things where as we have grown and become more knowledgeable about how to really manage risk, we have recognized that mandates like that sound very good but in point of fact are extraordinarily expensive and that there are better and more efficient ways to accomplish the same result," Napolitano said on Thursday.
Homeland Security last year said it was using a layered, risk-based approach to direct resources toward scanning all sea cargo determined by prior data collection to be high-risk. That has ensured that 100 percent of such containers are checked for dangerous substances prior to their entry into the United States and is more efficient than the blanket screening mandate called for by Congress, the department said.
"We have a number of things around the world ... negotiation of international agreements and the like, those are the kinds of things that layered together make us confident that we are doing all that can be done to minimize the risk that dangerous cargo will enter the United States," Napolitano said.
As of last summer, 58 foreign seaports that send 80 percent of all ship cargo to the United States were using risk-based assessments based on intelligence findings and computer algorithms to screen tens of thousands of high-threat containers prior to loading them onto U.S-bound freight vessels, according to the Washington Post.
"One of the big developments in the department in the last few years was to say we don't need to treat all cargo the same," Napolitano said.
In all scanning of foreign cargo, there have been no discoveries of attempts to smuggle nuclear materials into the United States.
Even so, some lawmakers remain alarmed about the potential for nuclear materials to be brought into the country and used in a terrorist attack. They have called for the Homeland Security Department to fully implement the 100 percent scanning requirement. The current approach is "inadequate" in the face of "frighteningly inventive" terrorists, three senior Democratic representatives said in a June 2012 New York Times commentary.
The Obama administration late last year moved to drastically reduce spending on a key program to provide nuclear and radiation detection technology to major foreign seaports. The 85 percent spending cut  to the Megaports Initiative for fiscal 2013 was coupled with a halt to plans to add more seaports to the program.