Military could redefine global-strike weapons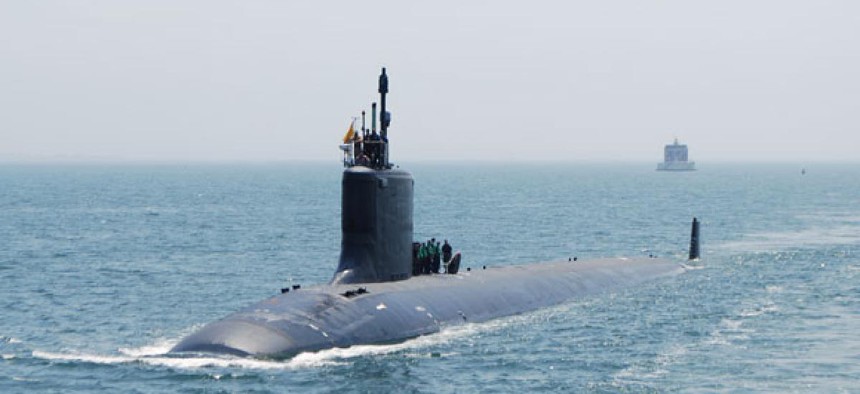 The U.S. military is weighing a redefinition of what constitutes a "prompt global strike" weapon, and the result could be to expand the kinds of conventional arms available to hit targets on short notice virtually anywhere around the world, according to defense sources.
These might include weapon systems with shorter range and slower response times than previously considered, Global Security Newswire has learned.
"Some of the combatant commanders are beginning to understand that cost is important," said one retired strategic-weapons officer, referring to mounting pressures to reduce the defense budget. "And it's coming down to a fight over prompt global strike."
The individual is one of several current and former military officials who requested anonymity in this article to allow more candid discussion of sensitive topics.
The Defense Department is grappling with a possible $52 billion funding shortfall in this fiscal year if the White House and lawmakers fail to agree by March 1 on how to avoid the so-calledbudget sequester. This would come on top of nearly $500 billion the Pentagon has already slashed from its 10-year spending plans.
With dollars increasingly short, combat commanders and service chiefs lately are battling not as much over warfighting plans as they are over getting a piece of the budget pie. That has made the global-strike mission an attractive catch that senior brass are vying to control, according to several informed sources.
For prompt global strike scenarios, the military has in the past said it needs a capability to hit targets anywhere around the world with just one hour's notice.
Until now, that tall order appeared to require a state-of-the-art -- and expensive -- long-range weapon system, costing potentially hundreds of millions of dollars a pop. Such arms could be procured only in small number as a niche capability, one that would be used solely against the most important targets and when no other weapon platforms were available.
Those assumptions, however, are likely on the brink of major change.
Emerging from a top-level Pentagon meeting in November appears to be a mandate for the four military services to explore development of short-, medium- and long-range weapon systems for the mission, officials tell GSN. Consequently, the word "global" could soon fade from the prompt global strike moniker.
Madelyn Creedon, the assistant Defense secretary for global strategic affairs, hinted at that notion in public comments last August, saying that future such arms might alternatively offer "a mostly global strike" capability.
In fact, even the idea of "prompt" is being questioned at the highest ranks in an effort to relax some of the most costly aspects of the effort. Use of off-the-shelf weapons that take a bit longer to arrive at target could diminish the necessity for technological breakthroughs, somewhat dampening talk of costly hypersonic darts that skim the atmosphere en route to targets, in minutes' time, halfway around the world.
Some expect that Adm. James Winnefeld, vice chairman of the Joint Chiefs of Staff, will soon tell other Pentagon leaders that the global-strike mission could be expanded to weapons capable of hitting targets within two hours of receiving a launch order, rather than the earlier 60-minute objective, according to defense officials and experts.
Over the past several years, all three military services have developed candidate conventional technologies for quickly attacking high-priority targets at long range. Yet, neither a Navy conventionally armed submarine-fired ballistic missile nor futuristic Army and Air Force concepts for land-based, hypersonic boost-glide weapons have moved from research and development to field deployment. Each has been hamstrung by cost, technical or operational concerns, or a combination of these impediments.
The idea behind developing conventional prompt global strike weapons has been to create viable alternatives to using nuclear-tipped long-range missiles during crises in which an important target surfaces but no U.S. or allied conventional forces are available in the area. Examples of such an urgent target might be a terrorist leader spotted at a remote safe house or a North Korean atomic weapon being prepared for imminent launch, defense officials say.
A top Defense Department panel that reviews what technologies the armed services need for carrying out assigned missions met in closed session on Nov. 6 to consider the conventional prompt-strike mission.
Chaired by Winnefeld, the Joint Requirements Oversight Council was expected to consider a proposal that would have placed principal emphasis on an emerging effort to equip NavyVirginia-class attack submarines with conventional missiles.
Defense officials were mum about what transpired during the secret panel meeting.
Since it occurred, though, staffs serving Winnefeld and the other JROC panel members -- the No. 2 officers from each of the four services -- have traded at least four different drafts of a memorandum for the vice chairman to sign that would outline military needs for prompt global strike, sources said.
Once finalized, Winnefeld's memo is believed likely to signal affordability as a new and central objective for the effort. The modified military requirement should also increasingly set the stage for each of the services to once again play a role in the prompt-strike sandbox, officials toldGSN.
So, too, should a broader vernacular for defining the mission allow regionally based combatant commanders a new role in "strategic" conflicts that occur in their respective operating areas. No longer would the head of U.S. Strategic Command -- where the prompt global strike concept originated nearly a decade ago -- necessarily control the use of rapid-attack conventional weapons in conflict, as has been previously assumed.
Lt. Col. Melinda Morgan, a Pentagon spokeswoman, on Wednesday would not say whether Winnefeld's memo had been finalized or what it contained, adding that the matter is classified.
According to other defense officials, though, military leaders plan to launch a fresh review that could offer greater detail on a new set of arms for hitting time-critical targets.
The upcoming review could allow for prompt global strike weapons that require as much as four hours' notice to be ready for taking on a mission, according to defense officials. The relaxed requirements also could include attack systems with ranges as short as 200 nautical miles or as long as 4,200 nautical miles, sources said.
These changes could generate concern in some quarters about the possibility that anything less than the earlier yardstick -- a truly rapid-strike capability with global reach -- might allow some future targets to slip away. For that reason, Winnefeld appears interested in continuing to invest in advanced technologies for prompt global-range strike for the long term, even as more readily available weapons of various ranges and speeds populate the tool chest initially, sources said.
These nearer-term weapons could be capable against "soft targets," such as assembled troops, or medium targets like buildings or vehicles. Other arms for use against time-sensitive targets could be built to damage or destroy hardened facilities built deep underground, such as command centers or WMD sites, according to some defense officials.
Others said, though, that final word from Winnefeld and his multiservice requirements council about the future of prompt global strike remained in formulation this week.
"It's an evolving kind of [thing], floating trial balloons," said one defense source. "It's up in the air."