DHS to recompete online immigration program in 'crisis'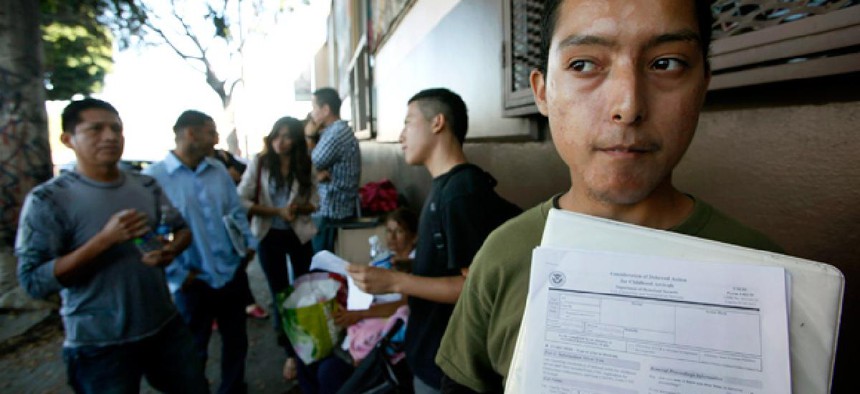 The Homeland Security Department will award contracts to multiple companies to fix a long-suffering program aimed at computerizing immigration paperwork, after a lackluster job by the current vendor, according to federal officials and internal memos.
The original five-year, $536,000 plan for "Transformation" has grown into a potentially two-decade effort that, officials told Nextgov, could cost more than $3 billion if not stopped. So far, U.S. Citizenship and Immigration Services, a DHS agency, has created one online form with the $792.6 million it has spent since contracting with system developer IBM in 2008. It is unclear how much of that sum went directly to IBM.
"I believe that the Transformation program is facing a crisis in its ability to execute technically. The most critical issues holding back the program are in the timeliness and quality of the delivery of [system] releases, and the overall productivity of the development team," wrote USCIS Chief Information Officer Mark Schwartz in a February "procurement-sensitive" acquisition strategy obtained by Nextgov.
He now intends to transform Transformation when IBM's present contract ends mid-2013, USCIS Transformation officials said this week. Schwartz, who has extensive experience in agile development, plans to recompete the deal in a way that will divide the work into many assignments with shorter deadlines and more input from the employees who will use the system.
The new approach will rely on multiple contractors, in part, to create a continuous sense of rivalry, agency officials said. Schwartz concluded that competition is the best way to maintain performance, they added.
An industry meeting for interested vendors is scheduled for Tuesday, officials said.
The online portal, called the Electronic Immigration System -- ELIS in a nod to the historic immigration station Ellis Island -- may need a lot more bandwidth soon. Both Republicans and Democrats are backing action to legalize highly-skilled foreigners, business owners and youths brought to the United States illegally as children. Immigration fraud could increase with heavier caseloads, critics warn.
ELIS is designed to help prevent identity theft and document falsification, according to USCIS. Beginning in January, agency officials expect to add functions that will allow background check personnel to manually revise reports if new information surfaces, officials said. Employees also will be able to manually run security scans on the system when needed, instead of depending on automatic, scheduled screening.
If the venture continues as originally conceived, costs could hit $3.6 billion, Schwartz estimated in his strategy. "It is difficult to make financial comparisons between the current approach and this proposed plan, because the current approach is so clearly unsustainable -- the program would be stopped before it reaches any of the numbers we could project," he wrote.
Internal memos reveal a pattern of shoddy contractor behavior. The documents blast IBM's system blueprints, low productivity and lack of expertise. The company's "design is poorly thought through and inconsistently applied by the developers. The result is duplication of efforts, time spent on rework, slowness in debugging problems, poor quality code, etc.," Schwartz wrote.
The contractors had little motivation to deliver on time, partly because pay was based on loosely-measured productivity, he added. "They have said that they believe in setting low expectations and then delivering on them, to be viewed as successful," Schwartz wrote.
IBM did not respond to a request for comment.
A New Approach
Agile development executed by multiple vendors is what the project needs for a turnaround, agency officials said this week. The White House has promoted the technique based on the premise that systems have better odds of functioning if individual features are launched every few months, tested on users and then adjusted accordingly. Traditionally, an agency will spend decades and billions of dollars building an entire computer program only to discover it does not work. Schwartz adhered to the agile philosophy for several years as CIO at Intrax, a company that facilitates study abroad and cultural exchange programs, before joining USCIS in 2010.
Schwartz's February roadmap pegged the total price for the revamped project at $1.3 billion. This week, officials said they could not provide a total cost estimate or completion date, since budgets are still pending. After launching in May, ELIS still only offers one immigration form, an application for visa holders who want to extend or change the status of their stays. The size of the IBM Transformation workforce underwent a "significant" reduction following that release, USCIS officials said, declining to specify the number of people taken off the job. Schwartz's strategy had anticipated cutting a then 280-person staff to about 60 people.
Going forward, USCIS will "switch to a more nimble approach" that will reduce the risk of waste, Schwartz wrote. The new plan will "expand the universe of contractors," specifically, to small-medium sized companies, so the agency can pick up the pace, draw more diverse skill sets and "find more cost-effective performers," he added.
Officials this week said they already have transitioned to an agile-style of construction with 4-month work cycles. Using the money saved from scaling back IBM's staff, USCIS now can bring in outside contractors to augment the company's work. Additional cost-savings should accrue through the elimination of useless system specifications identified during each phase, they said.
At Tuesday's industry session, USCIS officials expect to release draft solicitations for two of the procurements. One, a potentially $9.5 million contract called Transformation Integration and Configuration Services, is intended to simplify the design and architecture of ELIS.
The other, Flexible Agile Development Services, will assign jobs to multiple vendors, each lasting six months. "By selecting a small group of contractors" the agency will be able "to maintain competition between vendors for individual task orders, thereby giving them a strong incentive to increase productivity and quality, while at the same time reducing contracting resource needs by limiting the number of bidders on each task order," Schwartz wrote.
The services contract, valued at up to $160 million, involves moving the existing system's codebase to a new architecture, as well as improving design and programming flaws.
Through agile development, the agency anticipates developers will be able to automate, simultaneously, application submissions for foreigners and backend paperwork for employees.
USCIS officials this week said foreigners filing the one available online form, I-539, are amazed that they can securely respond within an hour to information requests from caseworkers. Soon, Web applications will be provided for replacing Green Cards as well as filing for immigrant visas, family-based and work-based petitions, and naturalization.
As for IBM's performance since ELIS went live, agency officials said they have been impressed with the company's recent output and have begun increasing the number of contractor teams. IBM is allowed to compete for the multi-contractor work after its current work period ends.
Over the years, Transformation has weathered negative federal inspector general and Government Accountability Office audits. Schwartz's predecessor in the CIO position was involuntarily reassigned after contending the project fostered excessive spending, inadequate technology, and mismanagement.
Some former agency personnel still harbor resentment that the project was allowed to continue, despite the alarms raised.
In 2008 and 2009, "USCIS at the time ignored the warnings of the then chief information officer, Jeff Conklin, about the ill-advised nature of the contract -- allowing the contractor to define and execute the solution. And now they are living with the consequences of the ill-advised decision," said a former CIO official who requested anonymity for fear of retaliation against his staff, who are still USCIS employees.
It might have been difficult to change contractors when troubles emerged, according to some contracting experts. The expectation likely was that the problems would be resolved or that USCIS could lose intellectual property vital to continuity of operations if the company was dismissed, said Ray Bjorklund, chief knowledge officer for market research firm Deltek.
To succeed this time, the agency must ink deals with yardsticks that can quantifiably appraise work deserving of rewards and penalties, he said.
"Being able to measure the contractor's ability to meet those incentives is not easy," Bjorklund said. "That's the challenge . . . The government is not always systematic and disciplined in applying the incentives they write in the contract."