Tech industry offers congrats, wish list for Obama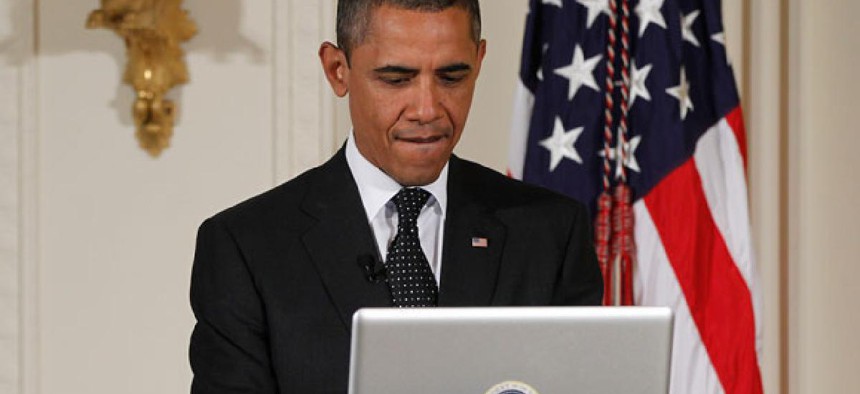 Never one to hold his tongue, Consumer Electronics Association President and CEO Gary Shapiro was among the more high-profile tech-industry supporters of GOP presidential nominee Mitt Romney, but he said on Wednesday that he is hopeful President Obama will refocus his attention on improving the federal government's fiscal house and boosting the economy after winning a second term on Tuesday.
Even though he said he continues to believe Obama "has been the worst president for business in my lifetime," Shapiro said in an interview that the president has been "very tech friendly."
"His attitude toward business has to change," Shapiro added. "His legacy will want to be a strong healthy economy. That requires that you embrace business somehow."
In addition to focusing on reducing the deficit and addressing the so-called "fiscal cliff" at the end of the year, when taxes are set to go up and major spending cuts are slated to go into effect, Shapiro said he is hopeful Obama can work with Congress on immigration reform. CEA and other tech groups have been pushing lawmakers for legislation that would allow more foreign students who graduate from U.S. schools with tech-related degrees to stay and work in the United States.
Other tech industry leaders in Washington were far less outspoken in their preferences for the White House and were quick to congratulate Obama on winning a second term but still called for action on some key issues including tax reform.
Groups such as TechAmerica have been pushing Congress and the White House to implement a territorial tax system, which calls for taxing only those earnings that occur inside the United States. Under the current U.S. tax system, corporations are taxed for what they earn domestically and abroad unless they reinvest those revenues overseas. During the campaign, however, Obama was critical of such an approach.
"We congratulate President Obama on his reelection and look forward to working with him on the many pro-innovation and job growth issues vitally important to the U.S. technology industry and its global competitiveness," TechAmerica President and CEO Shawn Osborne said in a statement on Wednesday, "It was clear throughout the election that there was a commitment from both campaigns to address some of the most pressing issues critical to the growth of our industry--access to human capital, opening new markets, protecting IP and modernizing the U.S. tax code."
The Telecommunications Industry Association, which represents communications equipment manufacturers and suppliers, also called for action on a laundry list of tech priorities.
"We strongly encourage President Obama to bring renewed focus to the issues facing tech and telecom businesses in the U.S. In particular, our nation must have, and enforce, trade policies that erase barriers for U.S. goods and ensure that our companies have a level playing field throughout the world," TIA President Grant Seiffert said in a statement. "More spectrum for broadband is vitally important for allowing consumers to reap the benefits of the wireless revolution and for American businesses to compete effectively. And tax reform, including incentives such as a permanent R&D tax credit, is needed so these businesses can invest in new technologies and continue leading the world in innovation."
One of Washington's newest industry groups, the Internet Association, which includes tech firms such as Amazon, eBay, Facebook, and Google, congratulated Obama on winning "America's first social election." The group noted the important role social media played in the election. In a statement, Internet Association CEO and President Michael Beckerman said both parties "must guard this growth for the future of voting and the freedom of this great land."