NGA says it opposes draft Internet gambling bill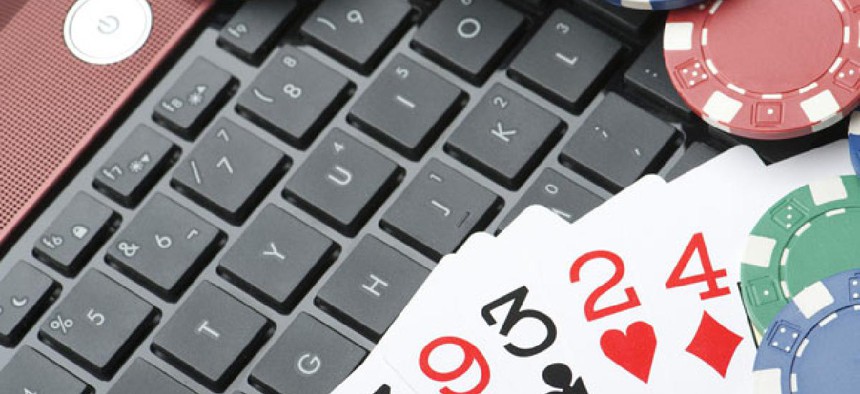 Even though prospects for the legislation have faded this year, the nation's governors on Thursday told Senate and House leaders that they oppose draft legislation that would tighten restrictions on Internet gambling while allowing for the legalization of online poker.
In a letter to House and Senate leaders on Thursday, the National Governors Association called on lawmakers to include state input before moving any online-gaming legislation. States have begun taking steps to offer online gambling within their state borders after the Justice Department last fall revised its interpretation of the Wire Act, which deals with state gambling activities. The department said the 1961 law only applies to sports betting, essentially opening the door to other kinds of online gaming.
In response to the Justice Department's reinterpretation of the federal Wire Act, Senate Majority Leader Harry Reid, D-Nev., and Senate Minority Whip Jon Kyl, R-Ariz., earlier this year crafted their draft bill that would legalize online poker and off-track horse betting, while specifically outlawing other forms of online gaming. The Justice Department's move cast doubt on a 2006 law, which Kyl helped author, that barred payment processors from handling payments for online gambling bets.
"The draft would preempt emerging state regulatory authority recently established by the U.S. Justice Department under a reinterpretation of the federal Wire Act, which could restrict state revenues derived from gaming," the NGA said in the letter signed by Govs. Tom Corbett, R-Pa., and Steve Beshear, D-Ky., the chairman and vice-chairman, respectively, of the group's Economic Development and Commerce Committee. "We oppose the draft Senate legislation in its current form as an unnecessary preemption of state authority."
Prospects for the draft bill, however, have dimmed over a dispute on how to move the measure. Kyl and Sen. Dean Heller, R-Nev., whom Reid asked to help line up GOP votes for the bill in the Senate, said last month that they think the House should take up the legislation first, before the Senate acts. Reid has rejected that idea and has criticized Heller, who is in a tight race to win a full Senate term, for not doing enough to round up Republican votes for the legislation.
Despite this, Heller told the Las Vegas Review-Journal earlier this month that he still thinks he and Reid can work together to pass the legislation.
(Image via Pedro Salaverría/Shutterstock.com)