Drones outlast narco boats in Caribbean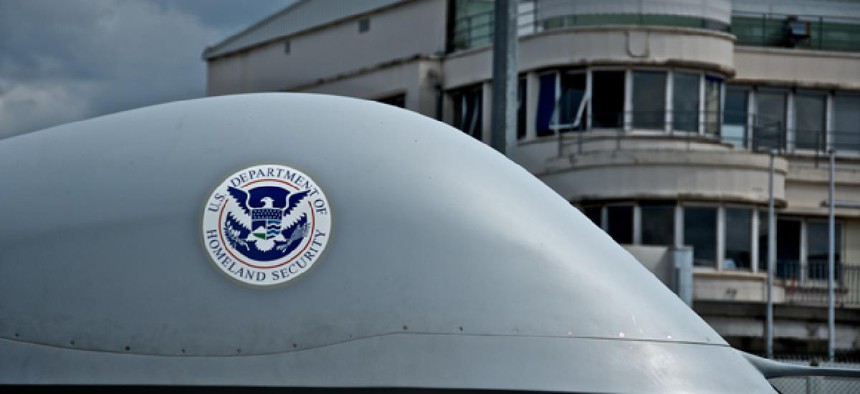 Sunbathers and sailors in the Caribbean who happen to witness a drone overhead might be comforted to know that the surveillance plane is focused elsewhere -- on vessels beneath the water or speeding ahead.
The Homeland Security Department is flying unmanned aircraft systems above the Caribbean Basin because of the vehicle's ability to loiter in the skies for up to 20 hours in search of narcotics cargo, DHS officials said.
Other DHS surveillance technology, including radar-equipped P-3 aircraft, last up to only 10 hours -- not long enough to pinpoint sneaky drug runners in the ocean. For example, semisubmersibles, or partially underwater vessels, are an emerging contraband conveyance and can travel great distances without surfacing to refuel. Go-fast speedboats, the predominate cocaine-toting ferries in the Caribbean, often sail at night to escape capture.
"The goal is to be on station long enough to detect and track targets making their way through the transit zone and bring in units for the intercept [that] can track a variety of smuggling vessels, including semisubmersibles and go-fast vessels," said Lothar Eckardt, executive director of DHS Customs and Border Protection national air security operations. "It doesn't matter what the target is; it matters that we are able to stay out and look for it."
The Guardian, a maritime version of Homeland Security's other Predator drones, is mounted with search radar and an electro-optical/infrared sensor. "The Guardian UAS is an excellent [intelligence, surveillance and reconnaissance] platform," Eckardt said. "Its persistent surveillance capability is what makes it perfect for the maritime environment."
The trafficking of illicit goods has shifted from the air to the sea in the Caribbean, according to CBP officials. "Trying to pinpoint smugglers to one specific means of transport is hard; they like to change the way they do business to prevent us from predicting their movements," Eckardt said. Tighter border security also is pushing more deliveries to the basin and other remote areas off the coast of California.
The July 1 Mexican presidential election has raised questions about cross-border counternarcotic cooperation by returning to power a political party once known for corruption and installing a new leader, Enrique Peña Nieto, who told The Washington Post he will measure drug war success in terms of homicide counts, not simply cocaine seizures.
Homeland Security "works closely with law enforcement authorities in many countries throughout the Caribbean Basin in order to reduce the flow of drugs from the source zone though the transit zone," Eckardt said, adding the U.S. government shares intelligence and security technologies with neighbors to the north and south.
The U.S. and Canadian governments, for instance, have agreed to board each other's vessels during drug crackdowns.
Some privacy advocates predict the next area of collaboration along both the northern and southern borders could be remotely piloted aircraft missions. Eckardt said, "We provide aerial assistance upon request following guidelines and parameters established by bi-national and multinational anti-drug trafficking-related agreements."
He added, "Any operations with the government of Mexico would follow similar procedures."
Amie Stepanovich, associate litigation counsel for the Electronic Privacy Information Center, said she has no concerns about Homeland Security flying drones purely to stop the flow of illegal narcotics. "What we've asked CBP to do is to look at their mission and make sure that their drone use complies with their main mission," she said. "As long as CBP is honestly staying within their parameters of looking for drug trafficking we would be open to that."
The concern is the U.S. government is violating the privacy of citizens unassociated with contraband, who unavoidably are photographed during missions.
Stepanovich said, "With the highly advanced technology these things can carry, it really is necessary for the protection of the people as they are going on with their daily lives" that CBP publish a privacy impact assessment -- a summary of controls that ensure compliance with federal regulations. The assessment should explain how information on innocents is stored, the time frame for retaining such data, and the methods of destroying it, she said.
Eckardt responded, "CBP is extremely concerned about privacy issues; all videos and images taken during a mission are safeguarded using documented procedures. The determining factor in how long a video or still picture is held is if it is being used as evidence in an ongoing case."
Former CBP Policy and Planning Director Seth Stodder said the real security threat is not so much the drones, but the semisubmersibles and newer fully submerged submarines.
"There is the doomsday issue of the submarines not moving drugs but something else," said Stodder, now a counterterrorism law professor at the University of Southern California. The fear is semisubmersibles, which set back crime rings only about $1 million, or submarines could be retrofitted to carry lethal explosives. Submarines can carry up to 10 metric tons of the narcotics, according to federal officials.
Homeland Security officials would not disclose the amount of illegal narcotics seized as a result of drone aerial surveillance, saying they cannot comment on ongoing operations.
Since 2011, the Joint Interagency Task Force South, a command with staff from DHS and the intelligence community as well as the Defense and Justice departments, has disrupted five semisubmersibles -- each escorting more than 6.5 metric tons of cocaine, Command officials testified in June. In total, the stealthy vessels outwitted authorities 79 percent of the time during the 214 incidents documented.