Can you build a combat vehicle through crowdsourcing? The Pentagon seems to think so.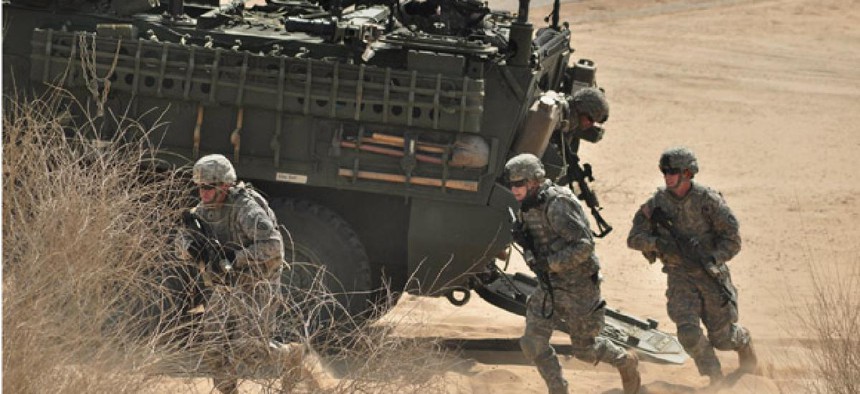 The Pentagon's venture capital arm awarded a $9.8 million contract to engineering consultancy Ricardo to aid efforts to create a new heavy and potentially amphibious infantry fighting vehicle, contract documents show.
The funding came out of the Defense Advanced Research Projects Agency program called Fast, Adaptable, Next-Generation Ground Vehicle. The project aims to use crowdsourcing to build a combat vehicle. A series of challenges inviting nontraditional players to take part would culminate in progressively more complex vehicle designs. A consultant or research laboratory would integrate the ideas tapped from a variety of participants.
DARPA envisions awarding $4 million in prize money to winning teams in three challenges, according to documents.
DARPA is being deliberately coy about the kinds of ideas it is soliciting, the agency said. For the first challenge, which involves designing mobility and drive train systems, "DARPA has intentionally avoided a precise specification of the scope of the mobility and drivetrain subsystems of an IFV [infantry fighting vehicle] for fear of precluding particularly innovative designs that challenge subsystem boundaries," solicitation documents show.
Earlier this year, Ricardo announced that it had been tapped to develop a database of component models involving the drivetrain and mobility sub-systems for a military vehicle. Ricardo did not immediately respond to further queries.
A full vehicle product is anticipated by fiscal 2015. DARPA said it is expecting to award up to $30 million for the program.
The experiment would leverage vehicleforge.mil, a crowdsourcing site in development to promote collaboration on systems designs "in a manner similar to forge sites in widespread use today for the development of software by the open source community," according to documents.
A concurrent DARPA program, called Instant Foundry Adaptive Through Bits, will be tapped to help create the final vehicle. It aims to support development of a manufacturing capability to rapidly fabricate military ground vehicles.