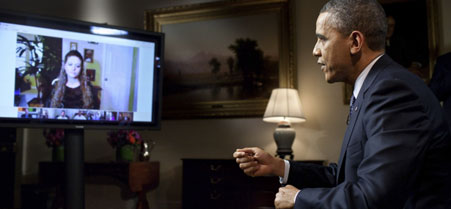 Pete Souza/White House
In his latest attempt to engage the American public directly, President Obama logged on to his Google+ account to hang out.
More than 227,000 people participated in Your Interview With the President on the search giant's social network Monday, either by submitting one of 133,000 questions or by voting on their favorite on Google+ and Google-owned YouTube.
The Hangout itself was conducted live, with Obama connected to moderator Steve Grove, head of news and politics at YouTube, as well as to five U.S. citizens, including a high school student in Freemont, Calif., and a small businessowner in Montclair, N.J. Thanks to the technology of Google's Hangout, all the president's interviewers were free to ask him anything as well as follow up on answers they found unsatisfying, which they often were not shy about doing.
The president answered 23 questions ranging from the Stop Online Piracy Act to the military's use of drones in Iraq. Though Obama previously has held virtual town halls on Facebook, Twitter, YouTube and LinkedIn, this was the White House's first-ever live virtual interview with members of the U.S. public.
Sources as diverse as a homeless veteran and an Occupy Portland protestor grilled the president on foreign aid and the economy, while an Obama impersonator asked if comedians have the power to influence elections.
One question Obama did not face was from a retired Los Angeles Police Department deputy police chief, concerning marijuana decriminalization. Google did not screen the question for the president, despite the fact that it was YouTube's highest-voted query (and the second-highest vote collector overall behind a text-message question about Internet copyright laws).
Google said prior to the Hangout that the White House would have no role in selecting the questions, and that the president would not see any of the questions beforehand.